Lani John Tupu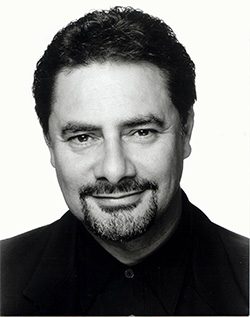 Multi-talented Lani John Tupu has two major roles in the prestigious Saturn Award-winning TV series
Farscape
. He is the cranky, unpredictable Captain Crais, and the voice of Pilot, the ship's navigator. Lani is also in the international, critically acclaimed Australian film
Lantana
which won the AFI (Australian Film Institute) awards for Best Australia Film of the year in 2001 and which picked up no less than seven major awards. In 2011, he starred in the science fiction film
Robotropolis.
Lani was classically trained in New Zealand Drama School (Toi Whakaari). After graduating, he worked steadily on stage in Auckland at Theatre Corporate. His colleagues at this theatre included Michael Hurst of
Xena
and
Hercules
fame. His second boss and Artistic Director at Mercury Theatre in Auckland was also none other than Jonathan Hardy, who is the voice of Rygel in
Farscape
.
He then landed the title role of a doctor in
Country GP
for two seasons on national television before leaving for Australia, in 1985. The idea was to branch out across "the big pond," and see what fame and fortune might bring. It was a decision that he has not regretted. "If I hadn't left NZ," he says, "I wouldn't be flying around in space with a wacky and wonderful bunch of misfits, such as the
Farscape
crew, and even more so, meeting an equally wild and wacky bunch of sci-fi fans. My world has certainly expanded; it really is a long way from Kansas, Toto!" Lani's screen film credits include
Lantana, The Punisher, Liquid Bridge
and his television credits include
Farscape, The Lost World, Green Sails, Mission Impossible, Tales of the South Seas, Flipper
(with Jessica Alba),
Time Trax, Stingers, Grass Roots, Police Rescue,
and
Tanker Incident
, to name a few. His last stage appearance was in Australia was in the spring of 2003 with the play
Away
by Michael Gow.
In April of 2007, Lani appeared in Sydney in
Anna in the Tropics
at the Belvoir Street theatre. In 2008, in the ABC's
The Cut
, in 2009, Kane Christopher's Short Film,
Dear Diary
, about to debut in the Palm Spring's International Short Film Festival, in June 23-29.
He is also featured heavily in a powerful short called "MISE-EN-ABYME" done in 2014 and it won a 2015 Award of Excellence in the Communication Arts Illustration Annual.
Lani is currently doing voice over work in Australia. Listen carefully and you will hear him on most ads and movie intros, the most recent Voice Over work is the Optus "Yes", Timeless Mobile plans, James Squire Golden Ale and Breast Cancer Screening.
Most notably, he is currently putting his voice to a series of books by author Candice Fox.
Lani will be appearing in the limited series
Reckoning
with Sam Trammell & Aden Young.