Derek Yaniger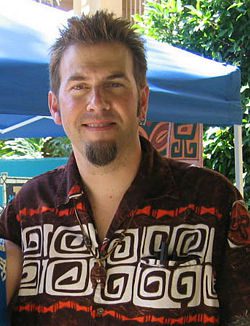 What's buzzin' cousin? Lemme clue ya' to what Derek's been up to these most recent dims n'brights. He's makin' art like …no-tomorrow-style. This cat's got a way long history of scratchin' out art for lots of king-sized bigwigs like Marvel Comics and Cartoon Network. But nowadays he strictly digs the gigs that let him beat his own bongos.
He gets a large charge creatin' art for a whole heap of way-out events such as the Tiki Oasis, The Rock n' Roll Monster Bash, The Hukilau, and even Spain's Wild Weekend! He's also laid out art for several righteous rags like
Barracuda
,
1313
,
Atomic
, and
Tiki Magazine
.
But what really flips his switches like… too much, is makin' with the Van Gogh routine. Derek's had his paint splatters well-hung in galleries all over the world. M Modern in Palm Springs, Outre` in Australia and Castor and Pollux in the U.K. to namedrop just a fewsville.
Derek has also been commissioned to create art for such hi-falootin' fat cats as Shag and Pixar director Lee Unkrich! Crazy, man!
Korero Books in London released a collection of Derek's retro art entitled
Wildsville, the art of Derek Yaniger
and shortly thereafter
Tiki Mugs
, which features a heapin' helpin' of Derek's mid-century tiki art as well as several tiki mugs he's designed for Tiki Farm and Munktiki.