Edward James Olmos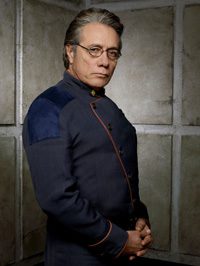 Archived Bio. Not part of the current Guest list.
Edward James Olmos was born on February 24, 1947 in East Los Angeles, California. His ethnically diverse neighborhood - which he refers to as a "salad bowl" because each culture kept its own unique qualities, blending into a whole without losing its individual flavor - contributed towards his open mindeness and ability to welcome diversity among people.
About the Boyle Heights section of Los Angeles where Eddie grew up, he says, "On our small lane (Cheesbrough's Lane) we had a Hispanic family with thirteen kids, Native Americans, Koreans, Chinese, Mexicans, Russians. It was a fantastic environment."
Eddie's mother, Eleanor Huizar, met his father, Pedro Olmos, while visiting Mexico City. They married and raised three children: Peter, Edward, and Esperanza. His parents divorced when he was eight, and Eddie found refuge in baseball as a means of staying away from street gangs and drugs. He was such a talented ball player, he became the Golden State batting champion.
Early in his teen years, Eddie found a new love - music. He taught himself to sing and play piano, and by 1961 he was good enough to join a band, the Pacific Ocean. The band's name was Eddie's idea because it was "the biggest thing on the West Coast." With waist long hair, Eddie was the band's lead vocalist. "I was a terrible singer, but, boy, could I scream and dance!"
Purgatory
. An album released in 1968, includes such classic tunes as: "Tracks of My Tears," "Subterranean Homesick Blues," and "16 Tons." On the album, credit is given to 'Eddie James' as one of the musical arrangers. Eddie also was the groups lead singer.
In the mid 1960s Eddie attended East Los Angeles College and California State University by day and played in local clubs most of the night. He began taking acting classes to improve the show. "I started acting to become a better singer. Then the whole thing switched on me. I discovered that the spoken word is easier to project than the sung word."
One night a young woman walked into Gazzarri's night club when the band was playing. The daughter of actor Howard Keel, Kaija was to become Eddie's first wife. They were married in 1971 and had two sons, Mico and Bodie. Edward also has two adopted sons, Michael and Brandon, and an adopted daughter, Tamiko. To support his family, Eddie took jobs delivering antique furniture between gigs and small acting roles. Then in 1978, during an audition for another play, he was asked if he would like to try out for
Zoot Suit
, a musical drama about the famous 1942 "Sleepy Lagoon" case in which a group of Hispanic youths were wrongly convicted of murder.
Eddie dazzled them at the audition, speaking the part of the narrator in calo, a street jive dialect (a mix of English, Spanish, and Gypsy) from East L.A. He earned the role of El Pachuco, the strutting, posing, super macho narrator.
Zoot Suit
opened in 1978 at the Mark Taper theatre with an expected run of ten days. It ran for a year before going to Broadway. By the time the show closed, Eddie had won a Los Angeles Drama Critics Circle award, a Theatre World award, and was nominated for a Tony Award.
Acting roles came in faster after that. In 1981 he made
Wolfen
with Albert Finney, and in 1982 he accepted the role of Gaff in
Blade Runner
with Harrison Ford. In 1984, after difficult negotiations in which he gained the right of creative control over his character of Lieutenant Martin Castillo, Eddie joined the cast of the very popular
Miami Vice
.
His popularity and fame grew tremendously with
Miami Vice
. However, Eddie was able to maintain a balanced approach. "You have to be able to say "no" to fame and fortune before you receive it to be able to say "no" again when you get older," Olmos observes. "If not, you won't have the strength and courage to do it. The intent must be pure."
From 2002 - 2004 EJO starred as the head of the household, Jess Gonzalez in the TV series,
American Family
. In 2006 EJO directed and produced
Walkout
, a movie for HBO.And in the last 5 years , EJO starred in the Sci Fi Channel's breakout hit,
Battlestar Galactica
, as Admiral William Adama. In 2008 he's busy preparing for his next project in which he will act, direct and produce The
Crystal Frontier
, a drama that examines U.S.-Mexico border issues and the effects of the two nations' foreign-policy decisions.
In the years since
Miami Vice
, Edward James Olmos has built an amazing career in Hollywood and across America. He directed his first movie,
American Me
. He won numerous acting and humanitarian awards. He has become involved in dozens of worthy causes with a variety of groups and organizations. He is tireless in his efforts to improve the human condition. One would be hard pressed to find a man more dedicated to his family, his work, his concerns and causes, and the people who look to him for a voice in their own lives.