Erin Gray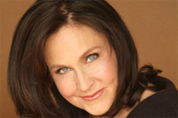 Archived Bio. Not part of the current Guest list.
It's next to impossible to recall
Buck Rogers
in the 25th Century without visualizing the show's aesthetic spark—beautiful brunette, Erin Gray. One could argue that Gray did more for spandex than Jennifer Aniston did for hairstyles.
As "Colonel Wilma Deering," she was the memorable "it" girl for the show's male viewers and an inspiring role model for young women. It's a little known fact that Gray was also one of the original
Sports Illustrated
swimsuit models, the Maxi Girl for Max Factor, and the original "I'm worth it" spokesperson for L'Oreal. All of this was perfect preparation for five years on NBC TV's
Silver Spoons
, where Erin Gray was the American public's image of the ideal woman. Her "Kate" managed to have it all: marriage, family, and business career.
For over two decades, Erin has performed in over a dozen feature films, including
Six Pack
, with Kenny Rogers, and
Friday the 13th: Jason Goes to Hell
. Her acting debut began with the four-hour critically acclaimed miniseries,
Evening In Byzantium
, starring Glenn Ford, and she has continued to show her diversification in numerous TV movies such as
Addicted to His Love
,
Born Beautiful
,
Official Denial
, and
Breaking Home Ties
, with Jason Robards. Perhaps you've seen her co-starring in some of TV's top episodic series such as
Magnum PI
,
L.A. Law
,
Baywatch
, and
Hunter
. In 2000, Erin guest-starred in a recurring role as Congressperson Karen Archer in NBC's highly acclaimed drama,
Profiler
, as well as portrayed the coldhearted Nicole Devlin in ABC's
Port Charles
. Since then, Erin starred opposite Robert Urich in a movie for Lifetime called
Cloverbend
; an independent feature film,
Woman's Story
; and a direct to DVD movie,
Caught in the Headlights
, with Stacy Keach. In 2006, Erin guest-starred in Hallmark Channel's
Jane Doe
series,
Mind Games
, with Lea Thompson, and three independent films,
The Wedding Video
,
My True Self
, and most recently as Jesse Metcafe's mother in
Loaded
.
Today, Gray maintains a solid acting career and a strong family life while possessing a highly developed sense of public service. She is the spokesperson for the NCADV, sits on the Advisory Board of Directors for Haven House, a battered woman's shelter, and is the recipient of nine community service awards. She received San Diego Film Festival's Entertainer of the Year Award in 2003 and the Los Angeles Commission for Women's Woman of the Year Award in 2002. Erin travels extensively, teaching seminars and giving motivational speeches. Over the years, she has embraced Eastern philosophy, a mindset that has righted many wrongs in her life, and she shares this calming healing energy with her friends and tai chi students.