Gillian Anderson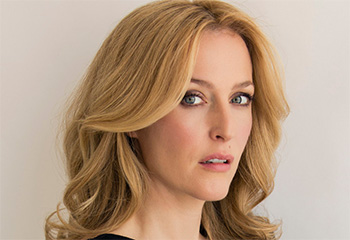 Archived Bio. Not part of the current Guest list.
Gillian Anderson is an American actress who achieved international recognition for her role as Special Agent Dana Scully on
The X-Files
, a role for which she won an Emmy Award, a Golden Globe, and two Screen Actors Guild awards. She reprised the part for two films and a 2016 revival television series. She also portrayed Dr. Bedelia Du Maurier on
Hannibal
and Meg Fitch on
Crisis
and will soon appear as Media in
American Gods
.
Anderson began her career in Alan Ayckbourn's play,
Absent Friends
at the Manhattan Theatre Club alongside Brenda Blethyn; she won the 1990-91 Theatre World "Newcomer" Award for her role. Her next theatrical role was in Christopher Hampton's
The Philanthropist
at the Long Wharf Theatre in New Haven, Connecticut.
Anderson moved to Los Angeles in 1992, spending a year auditioning. Anderson did
Home Fires Burning
for a cable station, as well as the audio book version of
Exit to Eden
. She broke into mainstream television in 1993, with a guest appearance on the collegiate drama,
Class of '96
, on the Fox Network.
As a result of her guest appearance in
Class of 96
, Anderson was sent the script for
The X Files
at the age of 24. She decided to audition because "for the first time in a long time, the script involved a strong, independent, intelligent woman as a lead character." Producer Chris Carter wanted to employ her, but Fox wanted someone with previous TV exposure and greater sex appeal. Fox sent in more actresses, but Carter stood by Anderson, and she was eventually cast as Special Agent Dana Scully. Anderson got the part assuming it would run for 13 episodes, the standard minimum order for American TV networks. Filmed for the first five seasons in Vancouver before moving to Los Angeles, the series would run for nine seasons, and included two films, released in 1998 and 2008. During her time on
The X Files
, Anderson won several awards for her portrayal of Special Agent Scully, including an Emmy Award, Golden Globe, and two Screen Actors Guild awards for "Best Actress in a Drama Series."
Anderson had roles in a handful of films during the run of The
X-Files
and starred in
The House of Mirth
, an adaptation of the Edith Wharton novel of the same name.
In 1999, Anderson had a supporting role in the English-language release of Hayao Miyazaki's
Princess Mononoke
, where she voiced the character of Moro. Anderson is a fan of Miyazaki's work. She also took part in Eve Ensler's
The Vagina Monologues
.
When
The X-Files
ended, Anderson performed in several stage productions and worked on various film projects. She has participated in narrative work for documentaries on scientific topics. In 2005, she appeared as Lady Dedlock in the BBC television adaptation of Charles Dickens' novel
Bleak House
, had a starring role in the Irish film
The Mighty Celt
(for which she won an IFTA award for Best International Actress) and performed in
A Cock and Bull Story
, a film version of the novel Tristram Shandy.
In 2006, Anderson was nominated for a British Academy Television Award (BAFTA) for Best Actress and won the Broadcasting Press Guild Television and Radio Award for Best Actress for her role in Bleak House. Anderson also received an Emmy nomination for "Outstanding Lead Actress in a Miniseries or Movie" for her performance as Lady Dedlock. She was nominated for a Golden Satellite Award and Golden Globe for her performance in
Bleak House
and came in second place in the Best Actress category of the 2005 BBC Drama website poll for her performance as Lady Dedlock.
Gillian will be appearing Sunday and Monday only.
During 2006 and 2007, Anderson appeared in two British films:
The Last King of Scotland
(2006) and
Straightheads
(2007).
Anderson appears as the head of MI7 Pamela Thornton in
Johnny English Reborn
, which opened internationally in Australia on September 15, 2011, and to some acclaim as Miss Havisham in a three-part BBC adaptation of
Great Expectations
that aired in late December 2011. On February 3, 2012, TVWise reported that Gillian Anderson had been cast in the lead role for a new drama series for BBC Two titled
The Fall
.
Gillian will be appearing on Sunday and Monday only.