Billy Dee Williams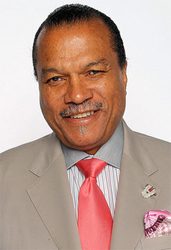 Billy Dee Williams, an icon of not only Hollywood but also the African-American community, was a long anticipated and much needed addition to the cast of heroes in the
Star Wars
universe. His considerable presence brought many viewers to the seats of the theater to see
The Empire Strikes Back
who may not have originally purchased a ticket. His overwhelming popularity and powerful performance opposite Diana Ross in the films
Mahogony
and
Lady Sings the Blues
led many women flocking to see his character Lando Calrissian in George Lucas' space fantasy. Billy Dee's career has encompassed so much, including the films
Undercover Brother
,
Nighthawks
,
Bingo Long
,
Bryan's Song
, and the television show
Dynasty
. His introduction in the
Star Wars
trilogy allowed Billy Dee to continue his role in
Return of the Jedi
; as General Calrissian he piloted the Millennium Falcon directly into the second Death Star destroying it from within. His popularity in the fantasy/Sci-Fi genre continued when he took the role of Gotham's district attorney Harvey Dent in Tim Burton's
Batman
, lending his charming good looks and suave attitude to the film. Recently, Billy Dee Williams was nominated for an Independent Spirit Award for his role in
The Visit
, portraying a father whose son is dying of AIDS in prison. He could also be seen on the television series
18 Wheels of Justice
and
Gidieon's Crossing
. In September he is traveling to Alabama to shoot a new project called
Constellation
. His acting career, however, does not completely engross his time. Billy Dee is also an accomplished artist whose paintings are displayed around the globe including the USA, Japan, and Canada. As well as a painter, he is also a talented author, helping pen the science fiction thriller
Psi Net
and it's sequel currently available in bookstores.
Billy Dee co-stars in
Hood of Horror
. All soap opera fans MUST check him out in the new
Night Shift
, a spin off of
General Hospital
that currently runs on the Soap Network, check local listing for dates and times!