Jack Gleeson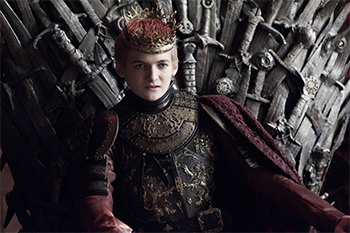 Archived Bio. Not part of the current Guest list.
Jack Gleeson began acting at the age of seven in the Independent Theatre Workshop. His first roles were in films such as
Reign of Fire
in 2002,
Batman Begins
in 2005,
Shrooms
in 2007, and
A Shine of Rainbows
in 2009. In 2010, he appeared in a leading role in
All Good Children
. The reviewer for Variety magazine considered Gleeson "the pic's big discovery".
Gleeson starred as Joffrey Baratheon in the HBO series
Game of Thrones
. He cites Joaquin Phoenix's portrayal of Commodus in
Gladiator
as an influence on his performance. He is the founder and artistic director of Collapsing Horse Theatre Company, which is based in Dublin.
In 2014, Gleeson confirmed he would be permanently retiring from acting after concluding his work in
Game of Thrones
and has since pursued academia. Gleeson will be appearing at Dragon Con on Sunday only.