Henry Gilroy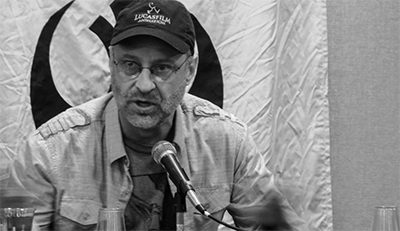 Archived Bio. Not part of the current Guest list.
Henry Gilroy is a television screenwriter and producer who is best known for co-writing the animated series
Star Wars: The Clone Wars
. From an early age, Gilroy loved comic books and animation. He studied film at several colleges in the greater Los Angeles area.
His first job was working as an editor for Warner Bros.' animation department. Working at the Skywalker and Big Rock Ranch facilities with George Lucas he co-wrote the animated series
Star Wars: The Clone Wars
. He served as head writer for season one, penning several episodes. He is also the author of several
Star Wars
comic books.
He is co-creator of the first
Bionicle
trilogy. Gilroy has since written for numerous animated series, such as
Taz-Mania
,
Batman: The Animated Series
,
Justice League
,
G.I. Joe: Renegade
and several Disney television series and the direct-to-video title
Atlantis: Milo's Return
.
Along with Ronnie del Carmen, Gilroy co-wrote the four-issue Joker/Mask comic book which was collected by Dark Horse/DC in 2001. He also wrote the film
Mass Effect: Paragon Lost
.