Steam Powered Giraffe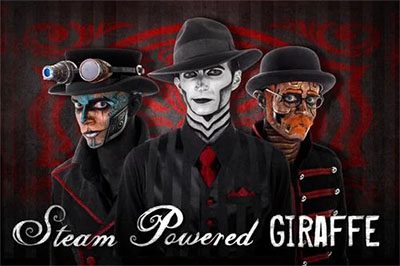 More than a band. More than a show. Step into the world of Steam Powered Giraffe.
Steam Powered Giraffe is a musical project from San Diego, California. It was formed in 2008 by twin siblings David Michael Bennett and Isabella "Bunny" Bennett. Together, along with a cast and crew filled with theatrical backgrounds, the group takes on the guise of singing antique automatons and the fictional robotics company that made them.
The quirky act combines comedic sketches, improvised android banter, and original music fused with multimedia visuals, billowing steam effects, and robot pantomime.
From their heartwarming nostalgic melodies to their funky cabaret rock, Steam Powered Giraffe's songs are memorable, infectious, and as unique as the robots themselves.
More than just a band, Steam Powered Giraffe is an experience that must be seen and heard by the entire family.