Pilou Asbæk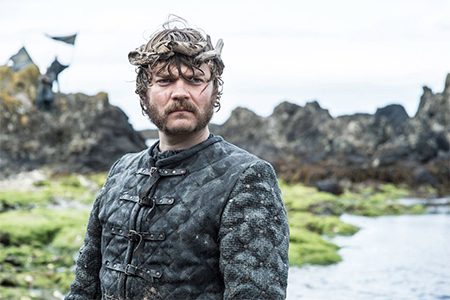 Archived Bio. Not part of the current Guest list.
In television, Pilou Asbæk played soldier David Grüner in an episode of the second season of another Danish TV series,
The Killing
(Danish:
Forbrydelsen
). From 2010 to 2013, Asbæk played the spin-doctor, Kasper Juul, in the critically lauded Danish TV series
Borgen
. Asbæk's performance was uniformly praised by critics.
In 2016, Asbæk joined the HBO series
Game of Thrones
in Season 6 as the ruthless pirate captain Euron Greyjoy.
In films, Asbæk starred in another piece by Tobias Lindholm, in the film,
R
, as a Danish convict, portraying a harrowing prison experience. The next year, in 2012, Asbæk starred in another Tobias Lindholm film called
A Hijacking
, about Somalian piracy. Asbæk portrayed a flamboyant Danish tycoon named Simon Spies in the movie
Sex, Drugs, & Taxation
(Danish:
Spies & Glistrup
).
In 2014, Asbæk starred opposite Scarlett Johansson in the Luc Besson film,
Lucy.
Also in 2014, Asbæk appeared in the Bille August film,
Silent Heart
(Danish:
Stille Hjerte
). Asbæk again collaborated with director Tobias Lindholm in the film,
A War
(Danish:
Krigen
), playing a soldier in Afghanistan. Asbæk co-starred in the 2016 remake of
Ben-Hur
, starring Jack Huston and Morgan Freeman. He portrayed Pontius Pilate. Shortly after, he played Batou in
Ghost in the Shell
.
Asbaek plays the lead role as police investigator Anders Olsen in the upcoming 2018 movie
The Guardian Angel
, opposite Josh Lucas.