Jody Lynn Nye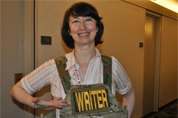 Archived Bio. Not part of the current Guest list.
Jody Lynn Nye lists her main career activity as 'spoiling cats.' When not engaged upon this worthy occupation, she writes fantasy and science fiction books and short stories. Before breaking away from gainful employment to write full time, Jody worked as a file clerk, book-keeper at a small publishing house, freelance journalist and photographer, accounting assistant and costume maker.
Since 1987 she has published over 45 books and more than 150 short stories. Among the novels Jody has written are her epic fantasy series,
The Dreamland
, beginning with
Waking In Dreamland
, five contemporary humorous fantasies,
Mythology 101, Mythology Abroad, Higher Mythology, Advanced Mythology, The Magic Touch
, and three medical science fiction novels,
Taylor's Ark
,
Medicine Show
and
The Lady and the Tiger
.
Strong Arm Tactics
, a humorous military science fiction novel, the first of
The Wolfe Pack
series. Jody also wrote
The Dragonlover's Guide to Pern
, a non-fiction-style guide to the world of internationally best-selling author Anne McCaffrey's popular world. She also collaborated with Anne McCaffrey on four science fiction novels,
The Death of Sleep, Crisis On Doona, Treaty At Doona
, and
The Ship Who Won
, and wrote a solo sequel to
The Ship Who Won
entitled
The Ship Errant
.
Jody co-authored the
Visual Guide to Xanth
with best-selling fantasy author Piers Anthony. She has edited two anthologies, humorous stories about mothers in science fiction, fantasy, myth and legend, entitled
Don't Forget Your Spacesuit, Dear!
,
Launch Pad
, and an anthology of science fiction stories co-edited with Mike Brotherton. She has two short story collections,
A Circle of Celebrations
, holiday SF/fantasy stories, and
Cats Triumphant!
, SF and fantasy feline tales.
She wrote eight books with the late Robert Lynn Asprin. Since Asprin's passing, she has published
Myth-Quoted
,
Dragons Deal
, and
Dragons Run
, third and fourth in Asprin's Dragons series. Her newest series is the
Lord Thomas Kinago
books, beginning with
View From the Imperium
, a humorous military SF novel.
Her newest books are
Rhythm of the Imperium
, third in the Lord Thomas Kinago series;
Wishing on a Star
, part of the
Stellar Guild
series, with Angelina Adams,
Pros and Cons
, a nonfiction book about conventions in collaboration with Bill Fawcett; and the 20th novel in the
Myth-Adventures
series,
Myth-Fits
. Her next novel, due out in July 2017 is
Moon Beam
, a science fiction young adult novel, in collaboration with Travis S. Taylor.
Over the last twenty or so years, Jody has taught in numerous writing workshops and participated on hundreds of panels covering the subjects of writing and being published at science-fiction conventions. She has also spoken in schools and libraries around the north and northwest suburbs. In 2007 she taught fantasy writing at Columbia College Chicago. She also runs the two-day writers workshop at Dragon Con.