Ted Naifeh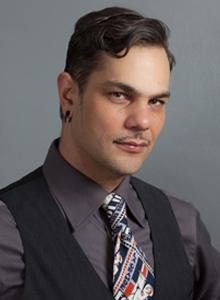 Ted Naifeh swooped onto the comics and goth culture scene as the co-creator of
Gloomcookie
with Serena Valentino in 1998. Ted illustrated the first volume of the gothic romance hit before departing to pursue his own projects.
In 2002, he introduced us to the world of Courtney Crumrin, a young loner girl who learns magic from her mysterious and curmudgeonly Uncle Aloysius and uses it to navigate her world of school bullies and bloodthirsty goblins, adolescent peer pressure and deadly coven politics. Courtney's adventures have been published in three volumes:
Courtney Crumrin and the Night Things
,
Courtney Crumrin and the Coven of Mystics
, and
Courtney Crumrin in the Twilight Kingdom
. In 2008, Ted added to Courtney's adventures with a new volume entitled
Courtney Crumrin and the Fire-Thief's Tale
, with another volume,
Courtney Crumrin and the Prince of Nowhere
, due from Oni Press this fall.
Courtney's grumpiness, ingenuity, sarcasm and loyalty have won her many fans and two Eisner Award nominations: in 2003 for Best Limited Series, and in 2005 for Best Title for a Younger Audience. The
Courtney Crumrin
movie property was optioned by DreamWorks in summer 2007.
Ted's next creation was
Polly and the Pirates
, also published through Oni Press, a swashbuckling tale of proper, rule-abiding young Polly Pringle, who is spirited away from her comfortable boarding school existence by pirates who insist that she is their rightful queen and captain. Polly would much rather be drinking a warm glass of milk by the fire, but in the end she's tempted by the gleam of treasure, the lure of adventure on the open sea, and the mystery of whether her mother could really be the infamous Pirate Queen Meg Malloy.
Polly and the Pirates
was nominated for a Harvey Award for Best Graphic Album – Previously Published.
Ted has also illustrated six volumes featuring videogame character Death Jr. for Image Comics. DJ is a sweet kid, an outsider at school, and the son of the Grim Reaper. Together with his small band of equally creepy friends (box-obsessed Pandora, conjoined geniuses Smith and Weston, and torso-in-a-jar Seep), they dodge bullies and fight terrifying demon monsters.
With Tristan Crane, Ted is also the co-creator of
How Loathsome
, strictly for the 18-and-up crowd. This four-story graphic novel explores the queer underworld of San Francisco, replete with sex, drugs, and rock 'n' roll, through the eyes of four memorable characters whose struggles with identity make them surprisingly easy to relate to.
Loathsome
took the comics world by surprise with its gritty, provocative and compassionate take on a taboo subject and garnered critical acclaim as well as a spot on The Advocate's "Best of 2004" list.
How Loathsome
was published by NBM.
Ted is currently illustrating a trilogy of graphic novels written by bestselling fantasy author Holly Black and published by Scholastic. The second volume of
The Good Neighbors
is due out in late 2009.
Ted lives in San Francisco, which influenced his aesthetic from a young age with its magnificently spooky Victorian houses, romantic foggy nights, and significant population of night things and other fantastic beings.