Chelsea Quinn Yarbro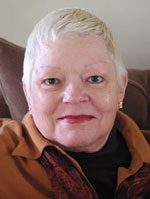 Yarbro sold her first story in 1968, and hasn't stopped since. She has worked in the science fiction, mystery, young adult, fantasy, and western genres, but is best-known for her horror fiction, for which she has received A Grand Master Award from the World Horror Convention, was the first woman to receive the Living Legend Aware from the International Horror Guild, and a Life Achievement Award from the Horror Writers Association; the first novel in her Saint-Germain series,
Hotel Transylvania
--- no relation to the animated film of the same title --- was one of six novels nominated for the Vampire Novel of the (20th) Century. She has also published nine non-fiction books Yarbro makes her home in the San Francisco Bay Area.