George Pérez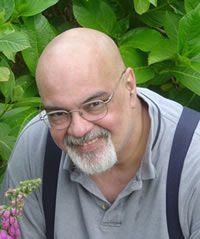 George Pérez's early work included
Sons of the Tiger
(a serialized action-adventure strip published in Marvel's long-running
Deadly Hands of Kung Fu
magazine and authored by prolific comics writer Bill Mantlo. He and Mantlo co-created the White Tiger, a character that soon appeared in Marvel's color comics, most notably, the
Spider-Man
titles. Pérez came to prominence when he started illustrating
The Avengers
for Marvel Comics, starting with vol. 1 #141. His early style seemed very much influenced by Jack Kirby, one of Marvel's leading creators from the 1960s, albeit with more realistic anatomy and a penchant for making his worlds seem bright and beautiful. In the 1970s, Pérez illustrated several other Marvel books, including
Fantastic Four
, where he began working with Marv Wolfman, and
Creatures on the Loose
featuring the Man-Wolf.
Pérez soon moved over to work for DC Comics. Following a popular stint on
Justice League of America
, Pérez's career took off with the launch of
The New Teen Titans
, written by Wolfman. This incarnation of the
Teen Titans
was intended to be DC's answer to Marvel's increasingly-popular
X-Men
comic, and Wolfman and Pérez indeed struck gold. Moreover, Pérez's facility with layouts, details, and faces improved enormously during his four years on the book, making him one of the most popular artists in comics.
Wolfman and Pérez followed this with DC's 50th-anniversary event,
Crisis on Infinite Earths
, which purportedly featured every single character DC owned in a story which radically restructured the DC universe's continuity. Pérez was inked on the book by two of the best inkers in comics at the time: Dick Giordano and Jerry Ordway. After
Crisis
, Perez inked the final issue of
Superman
(issue #423) in September 1986, over Curt Swan's pencils for Part 1 of the 2-part story
Whatever Happened to the Man of Tomorrow?
by writer Alan Moore.
Following
Crisis
, Pérez and Greg Potter were responsible for relaunching
Wonder Woman
, tying her more closely to the Greek gods and jettisoning many of the extraneous elements of her history. Pérez at first worked with Len Wein on the stories, but eventually took over the full scripting chores. While not as popular as either
Titans
or
Crisis
, the book was a very successful relaunch of one of DC's flagship characters, and many fans agree that his run on
Wonder Woman
is one of the finest moments in his career, a stint that would last 5 years from 1987-1992. Among the signs of his tenure's influence is that the upcoming
Wonder Woman
animated film borrows much of its plot from Pérez's first major story with the character,
Gods and Mortals
.
Pérez returned as co-plotter/penciller with the
New Teen Titans
with issue #50 (Dec. 1988), the series again being renamed, this time to
The New Titans
, as some of the characters were no longer teenagers. Issue #50 tells a new origin story for
Wonder Girl
, her link to
Wonder Woman
having been severed due to retcons in
Crisis on Infinite Earths
. Pérez remained as penciller with the book through to issue #55, 57 and 60, while only providing layouts for issues 58-59, and 61, with artist Tom Grummett finishing pencils and Bob McLeod as inker (Pérez plotted issue #56 only, as well as providing cover art). Perez remained as inker for the cover art to issues 62-67 (and co-plotting the stories for 66-67) before departing from the
Titans
book once again. He would later on return to the series' final issue with #130 (Feb. 1996) providing cover art.
Pérez would be involved with
Superman
in various times over his career. In
Action Comics
#544 (June 1983), he designed
Superman
villain Lex Luthor's trademark battlesuit, — a heavily-armored, flight-capable suit with kryptonite fixtures embedded in its gauntlets. These new designs for the villain were featured as part of the DC Comics licensed action figure toyline the Super Powers Collection as well in 1984 (Luthor's armor battlesuit would remain in use in today's DC Comics continuity). He pencilled
DC Comics Presents
#61 (Sept. 1983) which featured Superman teamed up with OMAC. Perez provided inks/finishes for the lead story in
Action Comics
#600 in 1988, over John Byrne's pencils which featured Superman and Wonder Woman teaming-up. From 1989-1990, Pérez later had a stint working on
Superman
, writing & pencilling
Action Comics
(and providing cover art for every issue he worked on). Pérez had first worked on the second annual issue of
Action Comics
(published in 1989) before taking over that title when it was brought back as a regular monthly series with issue #643 (July 1989). His work duties on
Action Comics
would change from writer/penciller, to co-writer/breakdowns, and towards the end restricted to providing breakdowns, with writer Roger Stern scripting stories. Artists Brett Breeding and Kerry Gammill provided finishing art from Pérez' breakdowns (Issue #646 was the only issue during his run where he was not involved with interior work of any sort, except for doing the cover art). Pérez managed to provide pencils & inks for an 8-page sequence for issue #650 (Feb. 1990). Pérez also had a short stint working on another
Superman
title, writing
Adventures of Superman
, providing plots for issues #457-459 (Aug. 1989-Oct. 1989), and inks for issue #461 (Dec. 1989). Due to an already heavy workload while doing both
Wonder Woman
and
Superman
at the same time, Pérez left
Action Comics
with issue #652 (April 1990) being his last.
Unfortunately it was during this run in 1991 that Pérez hit a snag working with DC. Pérez has stated that since the storyline's inception (which ran through the
Wonder Woman
comic and crossed over into others), he had trouble writing the
War of the Gods
storyline, mostly due to editorial problems. Pérez felt that DC wasn't doing enough to celebrate
Wonder Woman's
50-year anniversary. To make matters worse in his eyes, DC didn't place
Wonder Woman
in newsstand distribution, which meant that the comic book could only be found in comics specialty shops. Pérez had also built up a plot to marry the characters Steve Trevor and Etta Candy in his final issue. When he discovered that DC editors had decided to not only pass the
Wonder Woman
title's writing to William Messner-Loebs but also have Messner-Loebs write the final wedding scene, Pérez quit the title and separated himself from DC for several years.
Also in 1991, Pérez signed on to pencil the six-issue limited series
Infinity Gauntlet
for Marvel Comics, which was written by Jim Starlin. However, due to the turbulence happening concurrently with
War of the Gods
, this was a very stressful personal period for Pérez, and he was not able to finish penciling the entire run of
Infinity Gauntlet
, leaving the project part way through issue #4. The
Infinity Gauntlet
editorial team decided to find a replacement artist to finish the miniseries, and Ron Lim was the artist chosen (although Pérez offered to remain on as the inker over Lim's cover art for the remainder of the miniseries).
Because of the debacles over
War of the Gods
and
Infinity Gauntlet
, it was during this time that Pérez began to gain a reputation as a creator who could not finish projects as planned. Furthering that impression, he went on to work with independent comic book publishers Malibu Comics, drawing Break-Thru and Ultraforce (both titles were part of Malibu's Ultraverse imprint), and then working at Tekno Comix drawing
I-Bots
. However, despite being paid well by both publishers, he had no enthusiasm drawing the characters, and lost interest in drawing the titles.
In the 1990s, Pérez left the spotlight, although he worked on several popular projects, most notably at Marvel Comics with Sachs and Violens and
Hulk: Future Imperfect,
both written by Peter David. Pérez first returned to DC Comics in fall 1996, returning to another incarnation of the
Teen Titans
.
Teen Titans
(vol. 2) was written & penciled by Dan Jurgens, with Pérez as inker for the first 15 issues (of its twenty four-issue run). The series debuted in October 1996, and ended in September 1998. Jurgens' run was unpopular with readers due to the use of new characters that had no ties with previous incarnations of the team.
Pérez finally returned to a major ongoing title for the third series of
The Avengers
, written by Kurt Busiek, where he remained for nearly three years, again receiving critical and fan acclaim for his polished and dynamic art. After leaving the book, he and Busiek worked to produce the long-awaited
JLA/Avengers
inter-company crossover, which saw print in late 2003. This provided closure for Pérez, since a
JLA/Avengers
crossover was originally supposed to be published in the 1980s, but differences between DC and Marvel forced the comic to be canceled. As the artist on the story, he had drawn approximately 21 pages of the crossover, which were not published until recently.
Pérez has one creator-owned comic, the unfinished C
rimson Plague
. A science fiction story about an alien with ultra-toxic blood, the first (and for years, only) issue was published in the late Nineties by the now defunct Event Comics. In 2000, the original first issue was published by Image Comics (under the Gorilla imprint) with additional material and pages, with a follow up issue published soon after. Due to the extreme high costs of being a self publisher, which ended up being a financial burden (and putting himself in major debt), Pérez ended
Crimson Plagu
e a second time. It is unknown if Pérez intends to do anything else with the comic.
Also in the late Nineties, Pérez provided artwork for various titles for CrossGen. Although he provided covers, pin-ups and pencils for various titles, his main project was penciling the interiors for Solus. Although intended to be an ongoing series, it only lasted for eight issues before it was canceled due to CrossGen's bankruptcy.
In May 2006, Perez illustrated the cover art to one of the alternate covers to the Direct Market release of the annual
Official Overstreet Comic Book Price Guide
(36th edition) featuring Wonder Woman. He recently came off a successful opening run on DC's
The Brave and the Bold
(vol. 2, 2007-present) with writer Mark Waid. Perez also worked on
Infinite Crisis
, the follow up to
Crisis on Infinite Earths
, as a fill in artist. He is currently working on
Final Crisis: Legion of Three Worlds
, meaning he has worked on every chapter of DC's official Crisis trilogy. He is also working with Marv Wolfman on a direct-to-DVD movie adaptation of the Judas Contract story arc from
Teen Titans
. However work on this project has stalled.
He is currently co-chairman of the board of comic industry charity The Hero Initiative.