Samantha Inoue-harte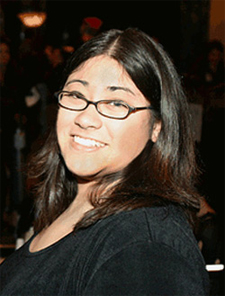 Archived Bio. Not part of the current Guest list.
Samantha Inoue-harte is an established and varied entertainment industry veteran. She is currently producing untitled Anime live action adaptation feature, acting in the Jamese Cameron/Robert Rodriguez live action adaptation of the anime
Battle Angel Alita
, and producing the 3D animated feature
Tailchaser's Song
, based on Tad Williams' novel.
Samantha is also an accomplished 17 year veteran as a voice actress in over 43 Japanese anime and video game titles. Samantha's most recognized roles are in Kingsisle Entertainment's
Pirate 101
and in Sony online Entertainment's
DC Universe Online
as The Mighty Isis,
Sakura Wars
as Kohran Ri,
Magical Play
as Pipin, and
Final Fantasy Unlimited
as the Chocobo and Cactaur. Her other titles include:
Ascension the Videogame, Birth, Blade of the Phantom Master, Bratz, City Hunter the motion picture, Cosplay Complex, Dai Guard
, Daphne in the
Brilliant Blue, DearS, Devil Lady, Eden's Bowy, Gatchaman, Getbackers, Getter Robo, Gun Crazy, Happy Lesson, Jing: King of Bandits, Legend of Crystania the motion picture, Lost Universe, Mazinkaiser, Moeyo Ken, Nadia the Secret of Blue Water, Negima!, New Fist of the Northstar, Ninja Resrrection, Petite Princess Yucie, Princess Blade, Pumpkin Scissors, Queen Emeraldas, Sakura Diaries, Samurai X the OVAs, Samurai X the Motion Picture, Shuten Doji the Star Hand Kid, Soul Hunter, Steam Detectives, Tekken the Motion Picture, Trinity Blood, Wedding Peach
, and
Zone of the Enders
.
Samantha's resume also includes non anime specific work as well. She has been an animation director for SpikeTV on
Fresh Baked Videogames
with
Rick&Morty
creator Justin Roiland, animated on Kevin Smith's
Clerks: The Lost Episode, Lilo & Stitch 2: the Origins of Stitch, Disney's Villains' Revenge
, Lonestar's "Mr. Mom" music video and many more.
Samantha has acted and has been a stunt worker in many on camera features including:
Appaloosa, Blacktino, Beatdown, Elvis & Annabelle, Exterminators, Grindhouse: Death Proof, Grindhouse: Panet Terror, How to Eat Fried Worms, Idiocracy, Jonah Hex, Kabluey, Machete, Machete Kills, Man of the House, National Lampoon's the Stoned Age, No Pain No Gain, Office Space, Shorts, Sin city, Sin City 2, Teeth, the 2 Bobs, Tree of Life, True Grit
, and can been seen regularly in
From Dusk Till Dawn
the series.
Samantha also dabbles in Gore FX makeup, which can be seen in
Teeth, Predators, Shores of Another Sea
, and
Grindhouse Planet Terror
.
When not working in film, Samantha is often cooking wonderful meals, Cowboy Action Shooting, and playing
Dungeons&Dragons
or table top games.