Mike Colter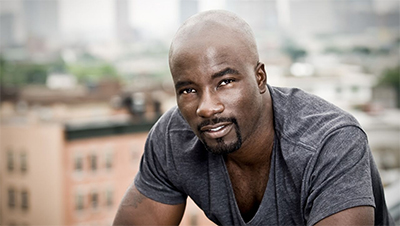 One of Mike Colter's highest profile roles was in the film
Million Dollar Baby
, in which he portrayed boxer Big Willie Little. He has also guest starred on
Law & Order: Trial By Jury, Law and Order: Criminal Intent, The Good Wife, ER
, and
The Parkers
, as well as several TV movies. Colter also starred in the series
Ringer
.
In 2014, Colter began portraying the role of Agent Jameson Locke in the
Halo
franchise. He starred in the series
Halo: Nightfall
and provided the motion capture for Agent Locke in
Halo 5: Guardians
while the voice acting is performed by Ike Amadi.
Most recently, Colter co-starred as Luke Cage in
Jessica Jones
, on Netflix. The entire first season was released online on November 20, 2015. This was followed by the character's individual series,
Luke Cage
, which was released on September 30, 2016. In December 2016, Netflix announced
Luke Cage
was renewed for a second season.
He will be appearing Saturday, Sunday, and Monday.