Bill Fawcett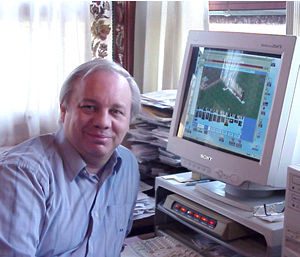 Bill's first commercial writing appeared as articles in the
Dragon Magazine
in the 1970s. At Mayfair Games he edited the
Role Aides
role playing game modules and supplements released by Mayfair in the 1970s and 1980s. During this period he also designed almost a dozen board games such as
Empire Builder
and
Sanctuary
.
In 1994 Fawcett joined with a team of programmers to form Catware featuring him as producer and designer. Catware released
Swords of Xeen
(New World Computing) as part of the trilogy game set,
Star General
, a strategic game based upon the six
Fleet
books (SSI) that was one of the 20 bestselling games in the year of its release, Las Vegas Games (New World) and is now working on a on-line role playing game. He produced and designed the computer RPG game
Shattered Light
for Simon and Schuster. Fawcett continues to develop new internet and app projects.
Bill Fawcett & Associates has packaged over 400 books for major publishers. These include a number of best selling science fiction, mystery, and action novels. His novel writing began with the juvenile series
Swordquest
for Ace Penguin Putnam Publishing. The
Fleet
series he created with David Drake has become a classic of military science fiction. Fawcett has collaborated on several novels including mysteries such as the
Authorized Mycroft Holmes
novels, the
Madame Vernet Investigates
series. As an anthologist, he has edited or co-edited almost 50 anthologies. Bill Fawcett & Associates has packaged well over 250 novels and anthologies for every major publisher. Fawcett is the editor of
Hunters and Shooters
and
The Teams
, two oral histories of the SEALs in Vietnam. His most recently published works include
It Seemed Like a Good Idea
,
You Did What
,
How To Lose A Battle
,
How To Lose a War
, and
It Looked Good on Paper: Engineering Disasters Through History
. He also wrote
Oval Office Oddities
, thousands of fun facts and strangeness about US Presidents,
The 100 Mistakes that Changed History
, and
Trust Me, 100 Leadership Mistakes that Changed History
have now been released by Random/Penquin/Caliber.