Barry Kitson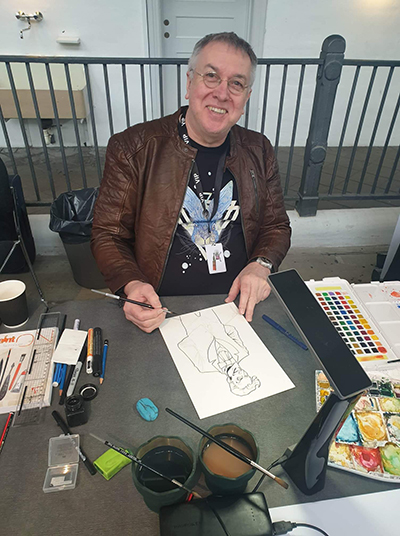 Barry Kitson has been a professional illustrator since the 1980's, he has drawn most of the flagship characters of both DC and Marvel comics. His first published work was for Marvel, drawing
Spider-man
and then
Transformers
. He later worked on
2000AD
, drawing both
Judge Dredd
and
Judge Anderson
before concentrating on the US market working for DC Comics for whom he drew
The Adventures of Superman
,
Batman, Justice League of America Year One, Azrael, The Flash, Teen Titans, The Brave & the Bold, The Legion of Super-heroes, Fables,
and
Fairest
among other titles. He also drew the recent
Wonder Woman / Tasmanian Devil
crossover event and has been providing covers for
The Flash
and
Green Lantern
comics.
Barry's work has also been seen at Marvel Comics including
The Amazing Spider-man, The Fantastic Four, The Avengers, The Order, X-Men, Iron Man: Public Identity, The Incredible Hulk, The Mighty Thor,
and
AVENGERS 4
. He is currently working on the
Doctor Strange
ongoing series.
Barry continues to work with Mark Waid on their acclaimed creator-owned series
Empire
– currently optioned as a film project and is one of the main contributors to
The Liberty Brigade
a project featuring many of the most well known creators in comics today, celebrating the Golden Age heroes of the genre.