Katherine Kurtz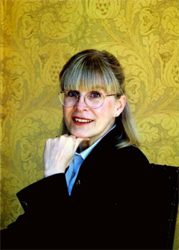 Katherine Kurtz was born during a Florida hurricane, and likes to regard this as an auspicious introduction to the world. She read honours humanities at the University of Miami, from which she received a B.S. in chemistry, and attended medical school for a year before deciding she would rather write about medicine than practice it. She completed an M.A. in medieval English history at UCLA while writing her first two novels and working as an instructional designer for the Los Angeles Police Academy, and continued her police work for another ten years before shifting to full-time writing. She is also a professionally trained hypnotist, a student of comparative religion, a passable authority on heraldry and chivalry (she belongs to several modern-day chivalric orders), a virtuoso at counted cross-stitch (in her copious spare time), and an avowed cat person.
In addition to her many works in the
Deryni
universe, beginning with
Deryni Rising
and now numbering well over a dozen, she has written several novels of the sort she refers to as "crypto-history" the secret story behind what is written in the history books, set during WW II (
Lamma's Night
) and the American War for Independence (
Two Crowns for America
). There was also a science fiction novel thrown in there. In addition, partnered with Deborah Turner Harris, she has written five books for Ace in her
Adept
series of occult detective thrillers, set in present-day Scotland, and two books exploring the Scottish War of Independence: the Knights Templar, the Stone of Destiny, William Wallace, and Robert the Bruce. A more recent departure from her usual subject matter is a whimsical fantasy set in modern-day Dublin,
St. Patrick's Gargoyle
, which appeared in 2001.
After twenty-one years resident in Ireland, Ms. Kurtz recently returned to the United States, where she lives in a historic house in Virginia with her husband, author and professional herald Scott MacMillan, entirely too many cats, and two exceedingly silly-looking hounds, both of them half-Bassett. Her first novel,
Deryni Rising
, has been optioned by Sony Entertainment for Columbia Pictures, and is currently in set-up.