Table of Contents
Getting ready for Dragon Con 2019!
DCMR Podcast 5 2019: Filking and The Brit Track.
DCMR Podcast 4 2019: Tours for Reporters/Space and Science Track.
PRESS RELEASE: Dragon Con Announces Comics & Pop Art All-Ages Programming.
2019 Dragon Con Progress Report Released.
Dragon Con Reporter Email Policy.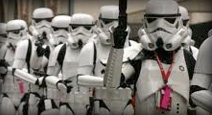 Getting ready for Dragon Con 2019!
With less than 30 Days from Dragon Con 2019, you are probably now preparing your coverage ideas for Dragon Con 2019.
Remember that we are hear to answer any question you have.
If you entered "other team members" on your form, ensure they have applied individually! As a membership organization we are required to have each individual reporter complete their own application and do not give out badges by outlet. Each of your team needs to provide a unique email address.
We will be putting together a "boots on the ground" guide and related podcast in mid-august to cover practical concerns such as parking, transit, hotel layouts, navigating the sky bridges, finding more information, and all the good things about being a reporter at Dragon Con.
Please remember to follow us on Facebook and Twitter for the most recent information:

Twitter: @DragonConMedia
Facebook: Dragon Con Media Relations
Click the More Button for …so much more!
(more…)