Anthony Simcoe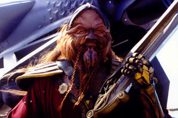 Anthony Simcoe is a graduate of Sydney's National Institute of Dramatic Arts (NIDA). He holds a specialized qualification in Actor Training and lectures regularly for the NIDA, as well as teaching and directing at various other institutions. He is best known in Australia for his role as Steve Kerrigan in
The Castle
and better known throughout the rest of the world for his portrayal of D'Argo on
Farscape
.
Anthony has acted and directed extensively for the theatre. He has appeared in
Three Winters Green
and
Complaints
at the Stables,
Open House
at Belvoir Street, and
Peter Pan
for the Queensland Theatre Company. He also wrote and performed
Craving
at the Sydney Street Theatre Space and toured with the Queensland Arts Council in World Games.
His television credits include
A Country Practice
,
Water Rats
,
Stingers
,
BeastMaster
,
The Lost World
,
Dogwoman
, and
Blackjack
. Anthony's other film work includes
Mr. Reliable
and
Chameleon
. He and fellow cast member Wayne Pygram work together in Anthony's band called Signal Room.