Jim Mahfood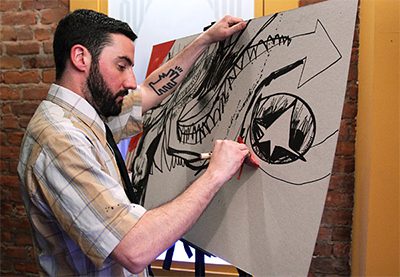 Archived Bio. Not part of the current Guest list.
Jim Mahfood aka "Food One" is a muralist, comic book artist, painter, live art show rocker and drunken freestyler extraordinaire. He has been working professionally as an artist since 1997, amassing an impressive cult following across the globe. His comic book work includes: lllustrating filmmaker Kevin Smith's
Clerks
comics and illustrating various
Spider-Man
projects at Marvel Comics. His creator-owned comic books include:
GRRL Scouts
,
Kick Drum Comix
,
Stupid Comics
,
Felt
,
One Page Filler Man
,
40oz Collected
,
Puttin' the Backbone Back
,
Bad Ideas
,
Classic 40 Ounce
, and many more. He can be seen rocking the live mural art at various hip hop and funk shows around the country. Food's art was featured in SLUG (Atmosphere) and MURS' (Living Legends) music video for the track "Early Morning Tony" off of their successful
Felt 2
album.
Recent projects have included doing all the murals and menu art for the coffee shop in the
Sarah Silverman Program
on Comedy Central and doing all the art and ads for the new COLT 45 malt liquor ad campaign.
Mahfood is also a member of the prestigious new Artsprojekt community. Clients include Playboy, Colt 45 (Pabst Blue Ribbon), The Sarah Silverman Program, MTV, Okay Player, View Askew, Rhymesayers, Hollywood Records, Cartoon Network, Disney, Armani, URB,
Spin Magazine
,
Phoenix New Times
,
Mad Magazine
, Marvel Comics, Ubiquity Records,
Star Wars Gamer
, Def Jux, DC Comics, etc.