Malcolm McDowell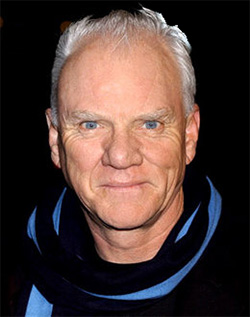 McDowell began his professional life serving drinks in his parents' pub and then as a coffee salesman (the latter job providing inspiration for the movie
O Lucky Man!
). While enrolled in Cannock House School, he began taking acting classes, and eventually secured work as an extra with the Royal Shakespeare Company. McDowell made his screen debut as school rebel Mick Travis in
If....
(1968) by British director Lindsay Anderson. This was followed by
Figures in a Landscape
(1970) and
The Raging Moon
(1971). His performance in
If....
caught the attention of Stanley Kubrick, who cast McDowell as the lead in
A Clockwork Orange
. He won great acclaim (nominated for Best Actor by the New York Film Critics Circle) for his role as Alex, a young psychopath brainwashed by an authoritarian British government.
McDowell worked with Anderson again for
O Lucky Man!
(1973), which was based on his own idea, and
Britannia Hospital
(1982). McDowell regularly turned up on British television productions in the 1970s in adaptations of theatre classics, one example being with Laurence Olivier in
The Collection
(1976), as part of the series Laurence Olivier Presents, as Olivier's younger lover. He He starred in
Aces High
(1975) and co-starred in
Voyage of the Damned
(1976), and as Dornford Yates' gentleman hero Richard Chandos in
She Fell Among Thieves
(1977). He made his Hollywood debut as H. G. Wells in
Time After Time
(1979).
McDowell mainly portrayed antagonists in the late 1970s and 1980s — none more notorious than the title character in the controversial
Caligula
(1979). He later remarked upon his career playing film villains: "I suppose I'm primarily known for that but in fact, that would only be half of my career if I was to top it all up." He also appeared in the 1983 action film
Blue Thunder
as F.E. Cochrane, and the 1982 remake of
Cat People
. In 1983, he starred in
Get Crazy
as Reggie Wanker, a parody of Mick Jagger. Also in 1983, McDowell starred as The Wolf (Reginald von Lupen) in Faerie Tale Theatre's rendition of
Little Red Riding Hood
(his wife at that time, Mary Steenburgen, played Little Red Riding Hood). In 1984, he narrated the documentary
The Compleat Beatles
.
McDowell is well known in
Star Trek
circles as "the man who killed Captain Kirk" in the 1994 film
Star Trek Generations
, in which he played the mad scientist Dr. Tolian Soran (Incidentally, he shares the distinction of playing one of Kirk's nemeses with Ricardo Montalban, with whom he also shares the distinction of portraying Mr. Roarke in respective versions of
Fantasy Island
). McDowell has also appeared in several computer games, most notably as Admiral Tolwyn in the
Wing Commander
series of computer games. His appearance in
Wing Commander III
marked the series transition from 2D pre-rendered cutscenes to live-action cutscenes. He also voiced the Enclave president John Henry Eden in Bethesda Softworks' acclaimed 2008 title
Fallout 3
. In the
Game Informer
magazine the president is named the second best video game villain of 2008.
In 1995, McDowell co-starred with actress and artist Lori Petty in the action/sci-fi/comedy film
Tank Girl
. Here, he played the villain Dr. Kesslee, the evil director of the global Water and Power Company, whose main goal in the story was to control the planet's entire water supply on a future desert-like, post-apocolyptic Earth.
McDowell played himself in Robert Altman's
The Player
, in which he chastises protagonist Griffin Mill (Tim Robbins) for badmouthing him behind his back. He worked with Altman once again in 2003 for
The Company
as Mr. A. the fictional director of the Joffrey Ballet of Chicago. His character was based on real-life director Gerald Arpino.
In the 2003 film,
I'll Sleep When I'm Dead
, he played a straight married man who rapes a young drug dealer to "teach him a lesson." The film also starred Clive Owen as the victim's older brother. It has become something of a cult classic.
In 2006, McDowell portrayed radio mogul Jonas Slaughter on
Law & Order: Criminal Intent
, In 2007, he portrayed the wealthy, conspiratorial villain Mr. Linderman during the first season of the NBC hit series
Heroes
, a role he reprised in the third season premiere. He has starred in
Jerry Was a Man
, which has appeared as an episode of
Masters of Science Fiction
, on ABC and Sky. He also portrayed Terrence McQuewick on
Entourage
and Julian Hodge on
Monk
.
In 2007, he appeared as Dr. Sam Loomis in Rob Zombie's remake of the horror film
Halloween
, and it's sequel
H2: Halloween 2
, as Desmond LaRochette in Robert Whitlow's
The List
, and as Irish patriarch Enda Doyle in
Red Roses and Petrol
, to be released theatrically in early 2008. He also began a recurring role on the Adult Swim cartoon
Metalocalypse
as Vater Orlaag and other characters.
In 2008, McDowell began a recurring role as Grandpa Fletcher on
Phineas and Ferb
.
McDowell recently provided his voice for the "Dr. Calico" character in Disney's
Bolt
, and filmed the Canadian vampire comedy rock and roll movie
Suck
with director and actor Rob Stefaniuk.
Some of McDowell's other recent voice work has been as the Superman villain Metallo in
Superman: The Animated Series
, Mad Mod in the cartoon
Teen Titans
, a character in, and the narrator of an episode of
South Park
, known simply as "A British Person," and even as the voice of a Death Star commander in a
Robot Chicken
episode parodying
Star Wars
. He is also a regular on the second season of the Adult Swim cartoon
Metalocalypse
.
In 2006 and 2007 he contributed spoken word to two Pink Floyd tribute albums produced by Billy Sherwood:
Back Against The Wall
, and
Return to the Dark Side of the Moon
.