Mike Grell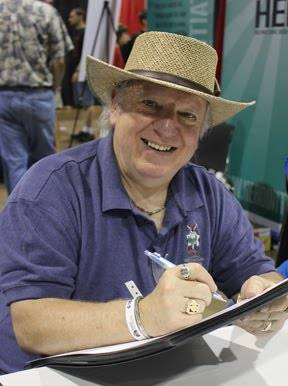 Mike Grell is a storyteller. Since his comics debut, he's brought his own creations and their worlds to life with a cinematic style of visual storytelling. Some of his more famed work includes:
Green Lantern
,
Green Arrow
, and
The Warlord
for DC Comics, as well as
Starslayer
,
Jon Sable
,
Shaman's Tears
,
Bar Sinister
, and
Maggie the Cat
.
These, along with successful runs on such features as
Batman
,
Iron Man
, the Tarzan Sunday comic strip and the internationally acclaimed Longbow Hunters, have won him the comic industry's coveted "Inkpot Award for Outstanding Achievement in Comic Art." He's been voted to "Top Ten List of Comic Writers."

Current projects include: The Warlord, a return to his first comic creation, writing and painting covers for a new series celebrating the 35th anniversary of DC Comics #1 fantasy adventure; The Pilgrim, currently being published by IDW, a collaboration with his good friend Mark Ryan, the noted British stage and television actor who currently provides the voice for Bumblee and Jetfire in the movies and video games.

In addition, he's done design and illustration work for; Lucasfilm, Lightstorm Entertainment, Fireworks Entertainment, Hallmark Entertainment, Disney, Coca Cola, Pepsi Cola and Tor Books.