Aurelio Voltaire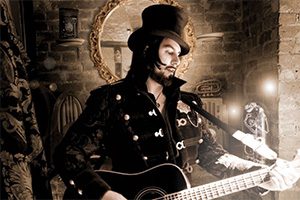 Archived Bio. Not part of the current Performer list.
Aurelio Voltaire is a media personality and respected authority on all things gothic, horror, sci-fi, steampunk, and involving "geek" culture. He is often referred to as a modern day renaissance man having achieved success in the fields of animation, music, comics, books, and toys.
Aurelio Voltaire's career began in the 1980s as a stop-motion animator and director, creating some of the award-winning, classic MTV, and SyFy channel station IDs. He worked in television, animating, and directing commercials for nearly twenty years when he realized it was time for him to tell his own stories. Finding comic books to be a vastly more economical tool than feature films Aurelio Voltaire told his first epic tale, Chi-chian in comic book form. This dark, Cinderella story set in Manhattan's future, was published and led to a 14-episode animated web series directed by Voltaire for the SyFy channel's website. His success in comic books also led to several underground hits including the comic book series Oh My Goth!, Human Suck! and most recently Deady. The latter featured collaborations with some of the biggest names in horror and comics including Neil Gaiman, Clive Barker, James O'Barr, Roman Dirge, Gris Grimly, and many others. It also spawned a long list of toys including plush toys for Six Flags, Hot Wheels cars for the Japanese market, and over a dozen vinyl toy releases including collaborations with Disney and Skelanimals.
In yet another career swerve, 1995 saw Aurelio Voltaire take the stage at a New York City club where he launched his music career. His songs are a strange brew of murder ballads, tongue-in-cheek exercises in the macabre with just enough bawdy Star Trek and Star Wars songs to keep convention audiences rolling in the aisles. Many in the mainstream know Voltaire as the writer and performer of the songs "Brains!" and "Land of the Dead" from the Cartoon Network show, The Grim Adventures of Billy And Mandy. Almost constantly on tour, he has played his music around the world and released eleven full length CDs to date.
Aurelio Voltaire also wrote the popular books What is Goth? and Paint it Black: a Guide to Gothic Homemaking (Weiser Books) and has appeared on numerous television shows and documentaries as an authority on Goth, Horror, and Steampunk. Appearances include Fox News, Biography, MTV News, Fearnet, IFC, PBS, and others.
When not touring, writing books or designing toys, Voltaire teaches stop-motion animation at the School of Visual arts and continues to make short films. His Chimerascope series of stop-motion shorts are perennial film festival favorites. The five shorts have won a combined 31 awards and feature the voice talents of Deborah Harry, Richard Butler, Gerard Way, Gary Numan, and Danny Elfman.