Brian Kesinger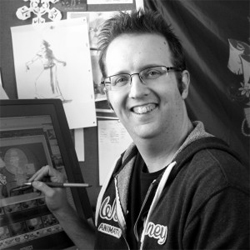 Brian Kesinger is an Annie award winning story artist for Walt Disney animation studios and creator of the popular steampunk duo, Otto and Victoria. Brian's 16 year career at Disney has spanned both hand drawn and check animated films from
Tarzan
to
Wreck-it Ralph
. The later of which he lends his voice talents to as well as the character, cyborg. After hours Brian has created amazing steampunk worlds populated with unique and memorable characters under the banner of his tea girls. Brian's personal work has been growing in popularity and is inspiring cosplay, fashion and even body art. His debut book,
Walking Your Octopus
is a collection of work that showcases his style, wit and ability to tell engaging stories in original ways.