Jasmine Becket-Griffith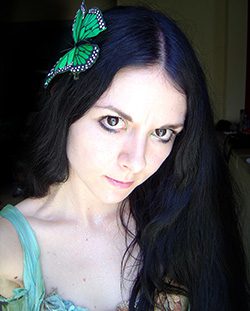 Archived Bio. Not part of the current Guest list.
Jasmine Becket-Griffith is a world-renowned artist working in the fantasy, pop surrealism, and new contemporary genres. Her
Strangeling
lines of merchandise, projects with companies such as Disney, Lucasfilm and the Bradford Exchange, and the extensive fine art gallery showings of her original acrylic paintings make her a fan favorite! Jasmine debuted her
Strangeling.com
website in 1997 and quickly became an iconic phenomenon in the art world with her paintings of big eyed girls, fantasy maidens and gothic sensibilities. As the years passed, many publishers, licensors, and company leaders have helped the Jasmine Becket-Griffith brand and image expand into a household name. Her creations include books, tarot cards, dolls, posters, figurines, oracle decks, jewelry, clothing, calendars, personal accessories, and of course the best-selling
Jasmine Becket-Griffith Coloring Book
.
You can visit her multiple galleries at Disney Springs a the Walt Disney World Resort in Florida as well as at Disneyland in California. Jasmine primarily lives in Celebration, Florida with her husband (author Matthew David Becket) and their cats. She also maintains secondary studios in London, England and near her family in Kansas City. Jasmine is a traditional painter, painting solely by hand with acrylic paints and water, typically on wood or masonite panel. Her highly recognizable big eyed female figurative works explore the themes of history, fantasy, spirituality, surrealism, nature, fairytales, popular culture and more. Her goal as an artist is to bring more beauty, magic & and mystery to the mundane world.