Crüxshadows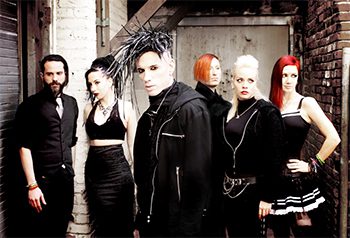 Archived Bio. Not part of the current Performer list.
The Crüxshadows is America's most popular and enduring dark-wave band. A musical mainstay of the underground/counterculture scene, they have remained a relevant player on the world stage for over two decades. Their success among fans of gothic, ebm, new wave, and dark electronic music has parlayed into four top ten Billboard singles in the U.S., and a number one alternative album in Germany. Known for their exciting live performances, their positive message, and their deep hook filled club anthems, this is a band that has made a career of thinking outside the "music industry box." Their popularity and accessibility has allowed them to generate a sizable worldwide fan base, appealing to music fans from varied genres and all walks of life.
They have played well over a thousand shows worldwide, including concerts in Norway, Sweden, Scotland, Ireland, England, Belgium, The Netherlands, Poland, France, Hungary, The Czech Republic, Germany, Austria, Switzerland, Italy, Denmark, Portugal, Greece, Latvia, Lithuania, Luxembourg, Mexico, Canada, Spain, The United States, The People's Republic of China, and many, many more. They were one of the first American acts to play in Romania and Serbia since the cold war.
Their music is accessible, blending elements of new wave, gothic, pop, rock, and electronica into hook-driven songs that have become staples on the dance floors of Europe and North America. But the band's uniqueness transcends the realm of dance or club music. The rich and romantic flavor of the electric violins, mixed with crunchy and often driving guitar lines, gives The Crüxshadows much of their signature sound. This is juxtaposed with the cold digital world of electronic textures and synthesis often associated with synth-pop and EBM. Add the moody musings of front man, composer, founder, and lead singer Rogue, and you have a guarantee that this band is anything but typical. Songs by The Crüxshadows are immediately recognizable. Lyrically, they have been known to draw heavily from science, ancient mythology, history, and literature ; and they tend to focus on themes of responsibility, loyalty, passion, and faith. The band's motto is "Live, love, be, believe," and it serves as a reminder that while The Crüxshadows may write catchy & often dance-able songs, they have a depth to their music that extends beyond their club play.
The Crüxshadows wrote the song "Deception" for
Vampire The Masquerade: Music from the Sucubus Club
CD, and a song based on Neil Gaiman's movie
Mirror Mask
called "Wake the White Queen", which Gaiman included on his CD
Where's Neil When You Need Him?
. You can find references to The Crüxshadows within the works of notable authors John Ringo, Laurell K. Hamilton, Sherrilyn Kenyon, & Caitlin Kiernan among others. With over 20 CDs, a DVD, and many compilation appearances, The Crüxshadows have made themselves synonymous with a new breed of electro-goth music. Their energy and intensity on stage led them to be called "the best live band in Europe today" by the host of Hamburg's popular
Crazy Clip Show
, and their performances have been aired regularly on German national television. Songs by The Crüxshadows have appeared on ABC World News, National Geographic Television, The Style Channel, MTV, The Food Network, Cartoon Network, BETV, and many others including some in Europe and Asia. Known for their theatrical, yet sincere, impassioned, and exciting performances, The Crüxshadows are indeed one of a kind.
Over their 20-year history, The Crüxshadows have performed with a broad range of bands including some notables like The Cure, Bjork, Ladytron, Apoptygma Berzerk, Placebo, Sisters of Mercy, Skinny Puppy, VNV Nation, Mesh, Bad Religion, Clan of Xymox, Tool, The Jesus & Mary Chain, 69 Eyes, Covenant, Project Pitchfork, and many, many more.
Current band members are: Rogue (vocals, songwriting, programming, lyrics), Mike Perez (guitars), Jen Jawidzik (keyboards/back-up vocals), David Wood (violins), JoHanna Moresco (violins/backing vocals), Jessica du Pont (drums/backing vocals), and dancers Suzy Spectre & Brittney Newsom.