Sean Pertwee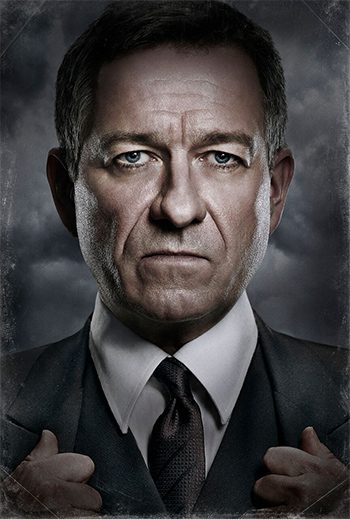 Sean Pertwee consistently captivates audiences with his compelling performances in a variety of roles that span film, television and stage.
Pertwee was most recently seen on Fox's hit television series
Gotham.
On the show, Pertwee plays Alfred Pennyworth, Bruce Wayne's unflappable butler. The show follows the story behind Commissioner James Gordon's rise to prominence in Gotham City in the years before Batman's arrival.
On the big screen, Pertwee was recently seen in Declan Lowey's
Alan Patridge
opposite Steve Coogan. The film tells the story of DJ Alan Partridge, whose radio station is taken over by a new media conglomerate. This sets in motion a chain of events, which see Alan having to work with the police to defuse a potentially violent siege.
Pertwee began his film career in Stephen Frears' Joe Orton biopic
Prick Up Your Ears
opposite Gary Oldman and Alfred Molina. From there he went on to appear in Paul Anderson's
Shopping
opposite Jude Law. He followed those roles with a number of enthralling performances in Paul W.S. Anderson's
Event Horizon
opposite Laurence Fishburne;
Soldier
, opposite Kurt Russell and directed again by Paul W.S. Anderson;
Love, Honour And Obey
opposite Jude Law and Jonny Lee Miller; Kurt Wimmer's
Equalibrium
opposite Christian Bale and Sean Bean; and the lead role of Sgt. Harry G. Wells in Neil Marshall's
Dog Soldiers
. Other notable film credits include
Deadly Voyage
,
Wild Bill
,
Doomsday
,
Blue Juice
where he appeared alongside Catherine Zeta Jones and Ewan McGregor, and
The 51st State
with Samuel L Jackson and Robert Carlyle.
On the small screen, Pertwee played the iconic role of Detective Lestrade in the CBS show
Elementary
opposite Jonny Lee Miller as Sherlock Holmes. His other TV credits include:
The Musketeers
,
Poirot
, and the critically acclaimed
Luther
. He also appeared as in a recurring role in the hugely popular
Cold Feet
with James Nesbit. Pertwee's other TV credits include
Skins
,
Body Guards
,
Jo
opposite Jean Reno,
Chancer
,
The Young Indiana Jones
,
Clarissa
opposite Sean Bean, and
Camelot
with Joseph Fiennes and Eva Green. Additionally, Pertwee has lent his voice to numerous documentaries, animated films, commercials, TV series and video games including
Master Chef: The Professionals
,
Fable
,
Killzone
and
Assasin's Creed
.
Pertwee currently splits his time between London and New York City, where Gotham films.