Petar Meseldzija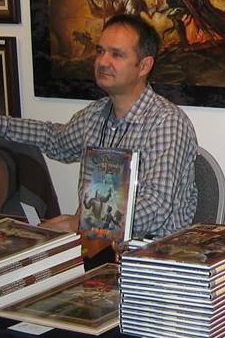 Petar Meseldzija was born in Novi Sad, Serbia, in 1965. He began his career in 1981, publishing the comic strip
Krampi
in the Stripoteka, one of the best known comic magazines in the country. This was followed by a series of short comics and his work on
Tarzan
.
In 1991 he moved to the Netherlands. He stopped doing comics and dedicated himself to illustration and painting. During the nineties he painted posters and greeting cards, illustrated books, and exhibited his work in various galleries and museums in Serbia, the Netherlands and the U.S. His work has been published in a variety of books and periodicals all over the world.
Petar has also collaborated on 2 books from the
Diablo III
series, published by Blizzard/Insight Editions. He worked for Scholastic Inc., US, creating 11 covers for the children's fantasy series. Other books include collections of his sketches and drawings, published by Xtra, Netherlands; a book of his
Tarzan
comics and an art collection
The Art of Petar Meseldzija
, published by Dark Dragon Books,
Netherlands; The Legend of Steel Bashaw
, and
The Book of Giants
, published by Flesk Publications, U.S.
He is the recipient of many awards among which are: "Plaque The International Golden pen of Belgrade, 1994", Serbia; The "Art Show Judges Choice Award" – 59th World Science Fiction Convention, Philadelphia, 2001, US.; two Silver Awards and a Gold Award from "Spectrum – The Best in Contemporary Fantastic Art", U.S..
His original work is to be found in the private collections in Serbia, the Netherlands, Belgium, Germany, France, Italy, U.S., Canada, Hong Kong and Indonesia.