Lou Ferrigno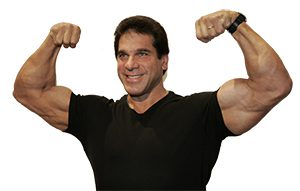 Archived Bio. Not part of the current Guest list.
Lou Ferrigno became a superstar with the emergence of the CBS mega-hit,
The Incredible Hulk
, and the 1977 bodybuilding documentary,
Pumping Iron
. In 2000, the cable television premiere of
Pumping Iron
was televised globally on both HBO and Cinemax. He also co-starred with Elizabeth Hurley and Brendan Frazier in
Bedazzled
, released October of 2000.
Currently residing in a rambling, seven-bedroom Santa Monica house, the six-foot-five, 285-pound legend is sought after for his bodybuilding expertise by movie stars and the "very, very successful." Undampened by any obstacles, Lou always exceeded expectations, despite the fact that he's been hard of hearing since age three. That's when his parents learned that a series of ear infections had subtracted 80 percent of his hearing. His resilient spirit was undaunted, even then.
Bodybuilding has always been a part of Lou's life. He built his first gym in the basement which included a crude lat machine, an adjustable bench with stands, squat stands, and, of course, free weights, some of which his father, then a police lieutenant, had been using since before Lou was born. In his first bodybuilding competition, he came in 22nd, but an undeterred and resourceful Ferrigno would become Mr. Universe soon enough.
To be sure, Lou Ferrigno is the only person ever to win the Mr. Universe title two years in a row, and at 21 he became the youngest bodybuilder to hold the record, both feats recorded in the Guinness Book of World Records. These are some of the triumphs of Ferrigno's life celebrated in the film
Stand Tall
, a documentary chronicling the star's eight-hour-a-day training regimen as he readied himself for the Masters Olympia title almost 20 years after retiring from his last bodybuilding competitions. He has authored such books as
Lou Ferrigno's Guide to Personal Power
,
Body Building
, and
Fitness for Everyone
. Lou Ferrigno's unique plethora of talents has even extended to playing professional football for the Toronto Argonauts.
Unlike the role he portrayed as TV's immortal
Incredible Hulk
, this well-spoken star has a superb diction that resonates with a deep timbre befitting a man of his physical charisma and power. His tanned, Italian physique is the stuff of the great movie stars. After starring in 17 motion pictures and fulfilling his lifelong dream of portraying Hercules on the big screen, Ferrigno determined that he would immerse himself in an actor's theatrical experiences. His great theatrical notices in Texas, Canada, and Chicago for his starring role in the stage production of
Arsenic and Old Lace
, he owes, in no small measure, to his improved diction and to his acting mentors, Milton Kateolas, Howard Fine, and
Hulk
co-star, Bill Bixby. Ferrigno has also starred in ambitious stage presentations of
Requiem for a Heavyweight
and
Of Mice and Men
throughout the U.S.
He met his match when he married his beautiful, psychotherapist wife, Carla Green, who previously worked with deaf children. The couple's house is the location of Lou Ferrigno's successful personal training business. His clients range from Mickey Rourke to Chuck Norris. Ferrigno is one of the most sought after personal trainers in the United States.