Jane Badler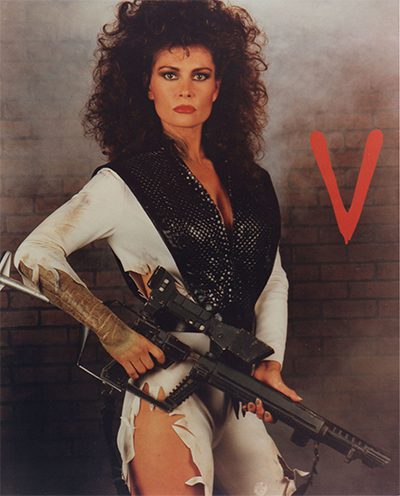 Jane Badler, is the American and Australian actress best known for her role as the evil reptilian Visitor leader Diana in the NBC mini-series
V
, its sequel
V: The Final Battle
, the subsequent TV series
V
, and the last season of the latest series
V.
She spent her teen years in Manchester, New Hampshire, where she attended Central High School. Jane won the Miss New Hampshire title and competed at the 1972 Miss America Pageant before going on to study drama at Northwestern University in Evanston, Illinois.
In 1977, Jane gained her first major role on the TV soap opera
One Life to Live
, where she played Melinda Cramer Janssen until 1981, returning briefly to reprise the role in 1983. She also starred on the venerable soap opera
The Doctors
. Jane's other TV roles included a stint on
Falcon Crest
as Meredith Braxton from 1986 to 1987 and as Agent Shannon Reed for the revival of the series
Mission: Impossible
, which was shot in Australia. She also guest-starred on many TV series.
Jane relocated to Australia after filming
Mission: Impossible Down Under
, marrying businessman Stephen Haines. They have two sons, Sam and Harry. Her Australian TV roles include
Cluedo
(the British and Australian name of the board game known as Clue in the United States). She also had a guest-starring role in
Snowy River: The McGregor Saga
. In the 1990s, she launched a stage career and cabaret act, including the one-woman show
The Love Goddess: Rita Hayworth
.