Paul Jenkins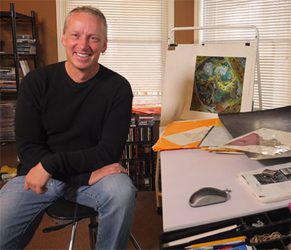 Archived Bio. Not part of the current Guest list.
Paul Jenkins is one of the premier creators and writers of comic books, graphic novels and video games in the world today. After five years working with the creators of the
Teenage Mutant Ninja Turtles
, during which time he worked on both the film and television properties, he began his freelance writing career in 1993 as scribe of the DC Comics
Hellblazer
.
In 1997 Paul won an Eisner for his work on Marvel comics
Inhumans
series. He has since worked on virtually every comic character in the business, including Spider-Man, Batman and The Incredible Hulk, and the smash hit
Wolverine: Origin
, for which he won five Wizard Fan Awards. Other work for Marvel includes the blockbuster
Frontlines
series, a part of the Civil War event, the
Mythos
series, and
Captain America: Theater of War
. In addition, his creation
The Sentry
has become a mainstay of the Marvel Universe.
Paul's work as Writer and/or Creative Director in the video game genre includes
Twisted Metal: Black
,
Soul Reaver
,
Incredible Hulk: Ultimate Destruction
,
God of War
, and others. 2007's
The Darkness
earned him a BAFTA nomination for storytelling and characterization. His latest work as narrative director,
2K's Darkness 2
, hit stores in February of 2012.
Paul has written a number of movie screenplays including Tatua, to be produced by Rick Schwarz (
Departed
,
Aviator
,
Gangs of New York
). He recently directed the 30-minute
CybeRacers
animated film. And just to fill up his spare time he is currently writing the first of three novels for St. Martin's Press.
In 2009 Paul began a collaboration with great friend and fellow creator, Humberto Ramos, on the
Fablewood Saga
. This series began with the phenomenal
Fairy Quest
, which has already been published in France and is set to appear across Europe.
Fairy Quest
follows the adventures of Red and Mister Woof, who break the rules of their story and run afoul of the dreaded Think Police.