Lips Down on Dixie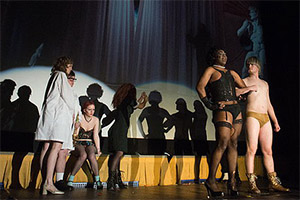 Lips Down on Dixie began in June of 2000 at Merchant's Walk Theater. The cast relocated to The Plaza Theatre, which is still its home base today.
In its first year at the Plaza, the cast was predominantly Rocky-oriented and its efforts earned the cast a spot on the cover of Creative Loafing as well as a cabaret-style show at the Masquerade for the club's "Secret Room."
In 2002, LDOD spread its focus, keeping
Rocky Horror
a priority but also establishing itself as a theatre troupe. Working to spread recognition beyond the midnight performances of
The Rocky Horror Picture Show
, the cast has taken several opportunities to really showcase its talent.
The first came unexpectedly in May of 2002, when a thunderstorm knocked out power for several city blocks, including the Plaza Theatre. Instead of canceling the show, the cast just kept on performing, singing and acting out the movie with nothing but high-powered flashlights and even stronger lungs. The performance became affectionately known as "LDOD Unplugged," and its success earned the cast a spot in the
Atlanta Constitution
's "Peach Buzz" section and stirred interest from other theatre groups.
LDOD invaded Atlanta's fetish nightclub, The Chamber, for two fetish themed shows within a two-week period entitled
The Rocky Horror Fetish Show
. The performances featured variants on traditional Rocky costumes and characters as they performed the classic
Time Warp
and an alternate version of
Sweet Transvestite
and swapped the Eddie and Columbia interaction of
Hot Patootie
for Meat Loaf's
Paradise by the Dashboard Light
.
In its later years, LDOD has appeared at other venues in town including Starlight Drive-In's yearly "Rock n Roll Monster Bash" performing Rob Zombie's
Brick House
, Club Future performing
I'm a Slave for You
and Tongue & Groove for their Lingerie Fashion Show.
The goals of the cast are outlined in its mission statement: LDOD wants to offer an atmosphere for young adults in the Atlanta area where they can be themselves, without the stigma of peer pressure or the influence of alcohol or illegal drugs. Not only does the cast achieve its goal of providing a danger-free environment in which kids can go wild, throw things, sing, dance, and scream audience participation lines at a movie screen, but it also puts on a performance that is cohesive, screen-accurate, and, most importantly, energetic and fun.
LDOD's slogan is "Betcha haven't seen it like this!"
Lips Down on Dixie will be performing a special Rocky Horror Picture Show at Dragon Con, late Saturday night. They also perform weekly at the Plaza Theatre in Midtown Atlanta at 1049 Ponce De Leon Avenue next to the famous Majestic Diner every Friday at midnight, in the Rocky tradition.