William Stout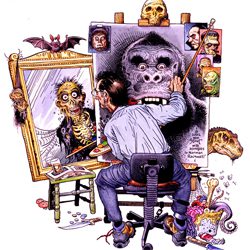 Archived Bio. Not part of the current Guest list.
William Stout was born in Salt Lake City, Utah in 1949. At seventeen he won a full California State Scholarship to the California Institute of the Arts. He began his professional career in 1968 with the cover for the first issue of
Coven 13
. In 1971 he began to assist Russ Manning on the
Tarzan of the Apes
Sunday & daily newspaper comic strips and Eisner Award-winning graphic novels. Stout joined Harvey Kurtzman and Will Elder on Little Annie Fanny for
Playboy
in 1972. In 1973 Stout began his relationship with the Firesign Theatre and gained international notoriety for his 45 rock 'n' roll "bootleg" record album covers.
From 1976 to 1977 Stout was art director for the rock magazine
BOMP!
1977 also saw Stout's first movie poster,
Wizards
. Stout ultimately worked on the advertising for over 120 films. His first one man show, "The Prehistoric World of William Stout", was in 1977. Stout was the first American contributor to
Heavy Metal
. In 1981 Bantam Books published Stout's landmark masterwork
The Dinosaurs-A Fantastic New View of a Lost Era
(Michael Crichton's acknowledged inspiration for his
Jurassic Park
novel), followed by Ray Bradbury's
Dinosaur Tales
and
The Little Blue Brontosaurus
(1984 Children's Choice Award recipient and the basis for
The Land Before Time
animated feature).
Buck Rogers
and 1978 saw the beginning of Stout's film career. Stout has worked on over 45 feature films including both
Conan
films,
First Blood
, and
The Hitcher and Invaders From Mars
.
Return of the Living Dead
made Stout the youngest production designer in film history. Stout wrote
The Warrior and the Sorceress
for Roger Corman and a dinosaur feature for Jim Henson. He production designed
Masters of the Universe
and John McTiernan's
A Princess of Mars
film project. Stout was the key character designer for Disney's
Dinosaur
and designed "Edgar" (the big bug in
Men In Black
) for ILM. After
The Muppets Wizard of Oz
Stout worked as a key designer on Guillermo del Toro's fantasy classic,
Pan's Labyrinth
. Stout's work contributed to the film winning two of its Academy Awards and won Stout a 2006 Chesley Award. He recently was the production designer for the children's television show
Lilly's Light
and contributed to Christopher Nolan's
The Prestige
and Frank Darabont's Stephen King's
The Mist
. He is slated to work on del Toro's
At The Mountains of Madness
and Darabont's
Fahrenheit 451
.
"Dinosaurs Past and Present," an important group show depicting the history of paleoart, broke all attendance records at each host museum. The six-year tour included the British Museum, the Royal Ontario Museum, and the American Museum of Natural History. At the Smithsonian alone, over 2,000,000 visitors saw this exhibition. William Stout: From Antarctica to Zombies, his 2010 career retrospective at the Laguna College of Art + Design, broke all of the college's former exhibition attendance records.
Beginning in 1987, Stout worked for Walt Disney Imagineering as a conceptualist, designer and producer for EuroDisneyland, Disneyland, TokyoDisneyland and Walt Disney World. After leaving Disney Stout continued themed entertainment design work, contributing to many Disney and non-Disney projects. In 1991 Stout conceived and designed Z Z Top's Recycler tour.
A 1989 Antarctic voyage led to a 45 painting one-man show Dinosaurs, Penguins and Whales-The Wildlife of Antarctica. This exhibition toured the world (Mikhail Gorbachev personally requested that the exhibition travel to Moscow) beginning with the Natural History Museum of Los Angeles County in 1991. Stout was awarded the National Science Foundation's 1992-93 Antarctic Artists and Writers Program grant. For three months he was based at McMurdo Station and Palmer Station. He made dives beneath the ice, climbed an active volcano, camped in the dry valleys and produced over 100 paintings of the white continent's rich abundance of life.
From 1993 to 1994 William Stout researched and painted two murals for the Houston Museum of Natural Science depicting "Life Before The Dinosaurs." In 1997 Stout began three Cretaceous murals and supervised two full-sized dinosaur sculptures for Walt Disney's Animal Kingdom. Stout began worked in 1998/1999 as the lead designer for Kansas City's Wonderful World of Oz theme park, and as a designer for Michael Jackson's NeverLand and a Toronto Dinotopia theme park.
1993's William Stout's Lost Worlds was the first of three Stout trading card sets (to date, over 20 million Stout trading cards have been sold). Stout illustrated
Abu & The 7 Marvels
(Benjamin Franklin Award winner; Bram Stoker and Chesley Award nominee; Gold and Silver Medals from the Society of Illustrators), Richard Matheson's first children's book. Stout's 2004 Tanagra Theatre poster and
Cricket
cover won Silver Awards from the Society of Illustrators and Spectrum. Stout's cover for Prehistoric Times #70 won a Gold Award from Spectrum. Stout illustrated
The Emerald Wand of Oz
and
Trouble Under Oz
. Stout's own publishing company, Terra Nova Press, has published over thirty books on art and the history of art.
Stout recently completed painting twelve large murals depicting the prehistoric life of San Diego for the San Diego Natural History Museum.
William Stout–Prehistoric Life Murals
, a book on all of Stout's mural work and his process in creating them, was published in 2009. Stout's three most recent books are
Dinosaur Discoveries
,
New Dinosaurs A to Z
and a collection of his fantasy work,
Hallucinations
. September 2010 will see the publication of Stout's female fantasy book,
Inspirations
. Stout also created a ZOMBIES! Calendar for 2011.
50 Legends of the Blues
(with an introduction by Led Zeppelin's Jimmy Page) will be published by Abrams in 2011.
In addition to the San Diego Natural History Museum, William Stout's murals and paintings are on permanent display at the Houston Museum of Natural Science, Walt Disney's Animal Kingdom, North Carolina Museum of Natural Science, Orton Geological Museum, Museum of the Rockies and the Lagoon Discovery Center.