Phil Plait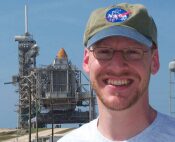 Phil Plait started out as a professional astronomer, but has switched careers a half dozen times, from astronomer to public outreach guy for several NASA satellites to author of two books (
Bad Astronomy
and
Death from the Skies!
) to professional blogger - his Bad Astronomy blog is one of the most popular science blogs in the world - to professional skeptic as President of the James Randi Educational Foundation to public speaker and TV science documentary guy.
"Blogger" is the one that's stuck, mostly because of the lack of a pants wearing requirement.
He's a huge and unabashed fanboy and geek, loving
Doctor Who
,
Stargate
,
Star Trek
,
MST3K
, and pretty much anything with spaceships and aliens, written or televised.