Travis Scott Merrill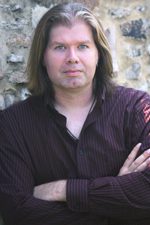 Archived Bio. Not part of the current Guest list.
Travis Scott Merrill has worked in professional theater for almost two decades, but has recently began working in the film industry . His work can be seen in films like
Allegiant
,
Live by Night
with Ben Affleck, and in
Guardians of the Galaxy 2
.
Travis does not remember a time in his life where he didn't have a need to create something from something else. Even as a child he would take apart his toys and turn them into something new. Thankfully, he had a very understanding mother and a father who ran a boy scout camp that started him with wood and leather crafts at a very early age. All this combined with a grandfather who taught him all he needed to have his very own rocket ship in his backyard were two steel drums, a dryer door and his imagination, led him to believe he could build anything with hard work, an active imagination, and an understanding of his tools and materials.