Travis Scott Merrill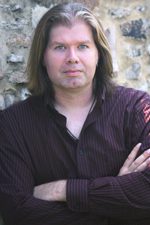 Archived Bio. Not part of the current Guest list.
Travis Scott Merrill does not remember a time in his life where he didn't have a need to create something from something else. Evan as a child he would take apart his toys and turn them into something new. Thankfully, he had a very understanding mother and a father who ran a boy scout camp that started him with wood and leather crafts at a very early age. All this combined with a grandfather who taught him all he needed to have his very own rocket ship in his backyard were two steel drums, a dryer door and his imagination, led him to believe he could build anything with hard work, an active imagination, and an understanding of his tools and materials.
He started Jacksonville State University as an art major and found theater by way of make-up effects. Once in the theater his art talent flourished, painting murals in the scene shop, sculpting in the prop shop, and various mask making projects. He found his ability to see various shapes and how the could go together clicked with draping and pattern making. One day realized, he was a theater professional. It is difficult to tear him away from the costume and props shops. There are so many tools and so many things he can not wait to build. Working as an ager/dyer in IATSE local 479 you see his work in
Macgyver
(2017),
Stranger Things, Guardians of the Galaxy 2, Live by Night
, and
Avengers Infinty War
.