A. J. Hartley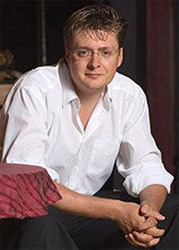 Archived Bio. Not part of the current Guest list.
A.J. Hartley is the international and
New York Times
bestselling author of 19 novels in various genres for adults and younger readers.
Steeplejack
was released by Tor Teen in June 2016, and won several awards including the Manly Wade Wellman Award and the International Thriller Writer's YA Award, and was named to Kirkus's Best Teen Reads list and the ALA's best YA books list. It was followed by
Firebrand
in 2017 which, like its predecessor, was nominated for a Dragon award, and by
Guardian
in 2018. His other YA series,
Cathedrals of Glass
, is part of a special partnership with Tom DeLonge of Blink 182 and Angels and Airwaves, with whom he is also writing the adult scifi series
Sekret Machines
. 2018 will see the publication of the second book in that series, the second
Cathedrals of Glass
book, the third
Steeplejack
book, a YA stand alone novel grounded in the ghost stories of his childhood called Cold Bath Street, and an adult thriller called
Lies That Bind Us
(published under the pseudonym Andrew Hart).
His early books include the mystery/thrillers
The Mask of Atreus, On the Fifth Day, What Time Devours
, and
Tears of the Jaguar
and the young adult fantasy adventures
Act of Will
and
Will Power
. The first of his
Darwen Arkwright
children's fantasy trilogy (
Darwen Arkwright and the Peregrine Pact
) came out from Penguin/Razorbill in 2011 and won SIBA's best YA novel of 2012. With David Hewson he has co-written two adaptations of Shakespeare plays as epic thrillers:
Macbeth, a Novel
(audio edition voiced by Alan Cumming) and
Hamlet, Prince of Denmark, a Novel
(the audio book, performed by Richard Armitage, was named Audible's book of the year for 2014).
He is UNC Charlotte's Robinson Distinguished Professor of Shakespeare, specializing in performance theory and practice, and is the author of various scholarly books including
The Shakespearean Dramaturg
,
Shakespeare and Political Theatre
, a performance history of
Julius Caesar
, and essay collections on Shakespeare on the University stage and Shakespeare in millennial fiction. Dr. Hartley is currently working with Peter Holland on a book on Shakespeare and geek culture. He is an honorary fellow of the University of Central Lancashire, UK.