Richard Dean Anderson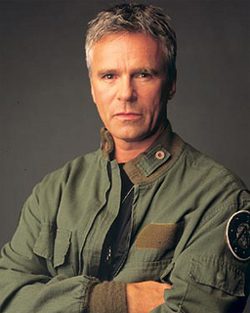 The future MacGyver and Stargate SG-1 star was born and grew up in a suburb of Minneapolis called Roseville. During his childhood and teenage years, he developed a love for sports, music (especially jazz) and acting.

Richard dreamed of becoming a professional hockey player as a teenager, a dream shared by his future Stargate SG-1 (1997) co-star Michael Shanks. However, this was not to be as, at age sixteen, he broke both of his arms in separate incidents, the second of which was so bad that he had to be hospitalized for three months. Although his dream became an impossibility, he never lost his love for the sport. Richard was very much a restless teenager, having had many adventures hitchhiking on the open road. This sense of adventure is most evident from his 5,641-mile bicycle trip from his home in Minnesota to Alaska. Though accompanied by several friends at the beginning of this trip, he traveled the last thirty-three days alone. This experience gave him a more centered sense of direction in his life.

After studying drama at St. Cloud State University and at Ohio University (without completing his degree), he briefly moved to New York before settling in Los Angeles, where he worked as a juggler and a street mime and in a Renaissance-style cabaret. He worked briefly in Marineland, where his jobs included holding fish in his mouth for killer whales to leap up and snatch. Subsequently, he appeared in plays and formed a rock band called "Rick Dean and the Dante" with his friend Carl Dante in which he sang and played the guitar.

His big break came in 1976, when he was cast in the popular daytime drama General Hospital as Dr. Jeff Webber. He continued to play the role for five years until he felt it was time to move on to prime-time drama. He made numerous guest appearances in series such as The Facts of Life (1979) and The Love Boat (1977) and was cast as the star in two CBS series, Seven Brides for Seven Brothers (1982) and Emerald Point N.A.S.(1983), but both lasted just one season.

His next big success came in 1985, when he won the role as the title character in the ABC adventure series MacGyver (1985). He was cast because the producers were impressed by the lack of pretension he showed at his audition. As he is nearsighted, it was necessary for him to wear his glasses for the reading. The series lasted seven seasons and ran for 139 episodes. It was hugely successful throughout its run and has continued to be popular all over the world. He reprised his role in two TV movies, MacGyver: Lost Treasure of Atlantis (1994) (TV) and MacGyver: Trail to Doomsday (1994) (TV), both produced by his own production company, Gekko Film Corp, which he co-founded with Michael Greenburg.

Having made a huge impression in Ordinary Heroes (1986) as a blinded Vietnam veteran struggling to rebuild his life in America, after MacGyver ended he moved on to TV movies such as In the Eyes of a Stranger (1992) (TV), Through the Eyes of a Killer (1992) (TV), Beyond Betrayal (1994) (TV), Past the Bleachers (1995) (TV) and Pandora's Clock (1996) (TV). He was particularly impressive in Past the Bleachers (1995) (TV), in which he played a grieving father struggling to come to terms with his young son's death.

He returned to series television in 1995, when he was cast as Ernest Pratt/Nicodemus Legend in Legend (1995), an adventure series that aired on UPN. He also served as executive producer of the series, in which one of his co-stars was his close friend John de Lancie. His character was a dime novelist (Pratt) who took on the persona of the protagonist in his novels (Legend). The series was primarily a comedy, a blend of the western and science fiction. It has also been Richard's favorite role to date.

He found major success again when cast as Colonel (later Brigadier General) Jack O'Neill in Stargate SG-1 (1997), an adventure/science fiction series based on the blockbuster Stargate (1994) starring Kurt Russell and James Spader. The series began filming in Vancouver on February 19, 1997, and premiered on Showtime on July 27, 1997 and on Fox Friday nights. The series has remained extremely successful since then, eventually resulting in the creation of a spin-off series, Stargate: Atlantis (2004), in 2004, and the now-canceled video game Stargate SG-1: The Alliance (2005) (VG) in 2005. Both series have aired on the Sci-Fi Channel. He has also appeared, sporadically, in the latest spin-off series, SGU Stargate Universe (2009). Richard's role in the SG-1 series was substantially reduced in its seventh and eighth seasons, which culminated in his departure from the series in 2005.