Nick Eftimiades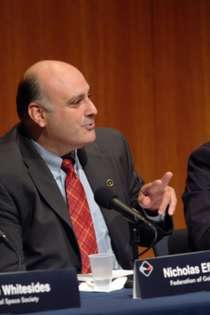 Archived Bio. Not part of the current Guest list.
Nicholas Eftimiades in an author and lecturer. He's spent 34 years in US defense and diplomatic positions with several postings in Europe and Asia.
Eftimiades authored books and number of scholarly articles on national security, technology and society, and outer space issues. He has written two political and philosophical satires entitled
The Book of Edward
and
Edward of Planet Earth
. They are a series of madcap sci-fi adventures that serve as a tour-de-force of social commentary, spoofing modern life from organized religion to the traffic control system. His work has received acclaim from Bill Nye "The Science Guy," astronaut Buzz Aldrin, and Bill Prady co-creator, The
Big Bang Theory
TV show.
Eftimiades' more serious book entitled
Chinese Intelligence Operations
, is an examination of the structure, operations, and methodology of the intelligence services of the People's Republic of China. The book received worldwide recognition with the Chinese government declaring Eftimiades "an enemy of the people." To date, it remains the only scholarly analysis of China's intelligence services and operational methodology.
Eftimiades is a frequent lecturer and public speaker on future technology and societal changes, and national security issues. He has appeared on
CBS Evening News with Connie Chung, Dateline NBC
, ABC's
Day One
, BBC America, National Public Radio, and dozens of other television and radio broadcasts. Eftimiades testified before several US Congressional and Presidential Commissions concerning National Security issues, future technology development, and the future of the US space program. He has been a consultant for several Hollywood movies.
Nick Eftimiades' 34 year government career includes seven years at the National Security Space Office leading engineering teams designing "generation after next" national security space capabilities. He was also senior intelligence officer in Defense Intelligence Agency, Future's Division, and chief of DIA's Space Division. He served as DIA's lead for national space policy and strategy development. Eftimiades is now retired (2017) and is a teacher at Penn State University.
In his off time Mr. Eftimiades formed and oversees the Federation of Galaxy Explorers, a non-profit organization to educate and inspire children in space science and engineering. To date, Galaxy Explorers has educated and inspired over 40,000 children. He is also a senior research fellow for Kings College, War Studies Department, London. He is a passionate writer and amateur astronomer.