Luvia Petersen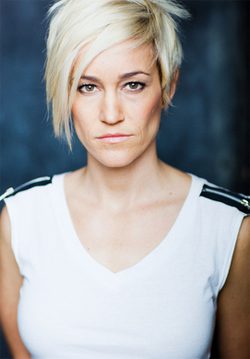 Luvia Petersen was raised in Montreal, Canada until the age of 6 when her family relocated to Alberta. After three years her family moved to BC, which is where she lives today.
Luvia showed a strong interest for both athletics and drama while attending high-school in Kelowna, BC. She chose to pursue athletics, which lead her to participating at the provincial level in both rugby and soccer. After a successful run in the world of sports, Luvia chose to revisit her love for acting. She attended a two week program at Vancouver Academy of Dramatic Arts followed by their six month full-time Dramatic Arts Program. Luvia continued training under renowned acting coach Warren Robertson (teacher to Larry Moss) while teaching and coaching at Vancouver Academy of Dramatic Arts.
Her first professional job came at the age of 25, when she was cast in the Emmy nominated TV series
The L-Word
(2004-2005). From there Luvia went on to host the first season of the documentary TV series
Hot Pink Shorts
(2007). She has since appeared in several projects for both film and TV including,
The X-Files
(2008),
Battlestar Galactica
(2009),
Reaper
(2009),
Sanctuary
(2010),
Endgame
(2011),
Falling Skies
(2012) as well as starring in numerous indie short films.
Luvia currently appears in the new hit,
Continuum
.
Along side her acting career, Luvia also owns a successful tattoo studio in Vancouver called Liquid Amber Tattoo.