John D. Ringo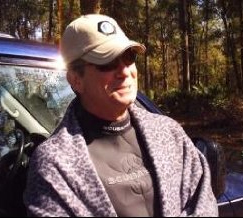 Archived Bio. Not part of the current Guest list.
John Ringo had visited 23 countries and attended 14 schools by the time he graduated high school. This left him with a wonderful appreciation of the oneness of humanity and a permanent aversion to foreign food. He chose to study marine biology and really liked it. Unfortunately the pay was for beans. So he turned to quality control database management, where the pay was much better.
But then Fate took a hand: Ringo was offered the 'rich and famous contract' and became a professional author. He is still somewhat confused by the requirement to sign in blood and the faint hint of sulfur. Over course of time he has published numerous novels at a prolific rate and thus made his publisher rich and famous.
With his bachelor years spent in the airborne, cave diving, rock-climbing, rappelling, hunting, spear-fishing, and sailing, the author is now happy to let other people risk their necks. He sits on his porch, thinks big thoughts, consumes amazing quantities of caffeine and nicotine then hallucinates his way through a novel. All of his books are available in deadtree as hardcovers or paperbacks in any local or internet bookstore and in electronic form. He lives in Chattanooga TN with his lovely wife and too many cats.