Allison Scagliotti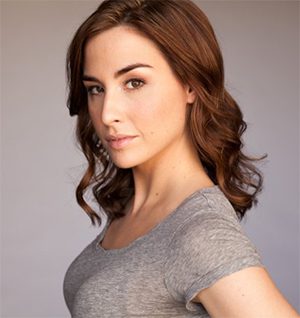 Allison Scagliotti has had various small television roles during her career including
One Tree Hill
, and
CSI
as well as the Nickelodeon series
Zoey 101
. Scagliotti also had a recurring role on
Drake & Josh
, as Mindy Crenshaw, Josh's rival and later girlfriend. She appeared in seven episodes from 2004 to 2008. She reprised her role in the spin-off movie,
Merry Christmas, Drake and Josh
.
Her first lead role was as Maddie in the 2005 short film
Redemption Maddie
.
Scagliotti is best known for her portrayal of the character Claudia Donovan in the 2009 series,
Warehouse 13
on Syfy. Her character was introduced early in the premiere season and she appeared in most of the remaining episodes (though credited as a guest star until season two). Her character crossed over to
Eureka
when she guest-starred in the season four episode "Crossing Over." She helped co-host SyFy's
Ghost Hunters Live
on Halloween 2010.
She appeared as Jayna, the female Wonder Twin, in the 8th episode of the ninth season of
Smallville
.
She has appeared as a guest on the show
Destination Truth
and
The Nerdist Podcast
hosted by Chris Hardwick.
She appeared in the indie film
Losers Take All
, set in the 1980s rock music scene.
In December 2012, Scagliotti appeared in Darren Caulley's play
Unhealthy
. She played the lead role of Michelle, a struggling actress.
Unhealthy
premiered December 4 at HERE Arts Center in New York, NY.
In 2014, Scagliotti joined the advisory board of Sci-Fest, the first annual Los Angeles Science Fiction One-Act Play Festival, to be held in May 2014.