Alex Kingston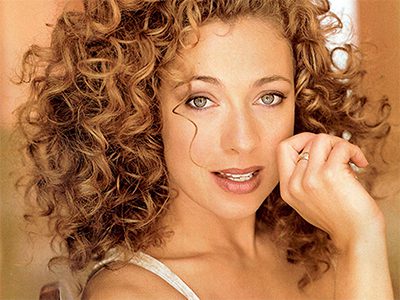 Archived Bio. Not part of the current Guest list.
Kingston has appeared in a number of British-produced television dramas, including
Grange Hill
,
Crocodile Shoes
,
The Fortunes and Misfortunes of Moll Flanders
,
The Knock
, and a guest role on
The Bill
.
Kingston's film credits include
The Cook
,
The Thief
,
His Wife & Her Lover
(1989),
A Pin for the Butterfly
(1994),
The Infiltrator
(1995),
Croupier
(1998),
Essex Boys
(2000),
Boudica
(Warrior Queen in the USA) (2003) in which she played the eponymous Boudica,
Sweet Land
(2005) and
Crashing
(2007).
In September 1997, Kingston gained North American television fame after being cast on the long-running medical drama
ER
. Her first appearance was in the premiere of the fourth season which was the award-winning live episode "Ambush" where she portrayed British surgeon, Elizabeth Corday. Kingston played this role for just over seven seasons until leaving in October 2004, in season 11: episode 4 called "Fear." In spring 2009, Kingston returned to
ER
during its 15th and final season for two episodes which were season 15: episode 12 called "Dream Runner" and season 15: episode 22 which was the two-hour series finale called "And in the End...."
In November 2005, Kingston guest-starred in the long-running mystery drama
Without a Trace
in season 4: episode 6 called "Viuda Negra" (Spanish for "black widow"). The episode was directed by Kingston's former
ER
cast mate Paul McCrane. She played Lucy Costin, one of two wealthy vacationers from the U.S. whose husband is kidnapped by a Mexican street gang on the last night of their honeymoon.
In 2006, Kingston starred as Nurse Ratched, opposite Christian Slater as Randle Patrick McMurphy, in the Garrick Theatre's West End production of
One Flew Over the Cuckoo's Nest
. Kingston revealed that she was turned down for a role on ABC's
Desperate Housewives
, as Lynette Scavo, for being too curvy. In the same article, she admitted to considering and nearly attempting suicide after her separation from her ex-husband Ralph Fiennes.
In 2008, Kingston guest-starred in the fourth series of the long-running science fiction television programme
Doctor Who
in the two-part story "Silence in the Library"/"Forest of the Dead" as River Song. She reprised the role in several episodes of the 2010, 2011, 2012 and 2013 series. Kingston says she thought her role was simply a one-off, but was delighted that she would be a returning character as she has now appeared in fifteen episodes and counting.
In September 2008, Kingston took the part of Mrs Bennet in ITV's acclaimed four-part production
Lost in Austen
which is based on Jane Austen's
Pride and Prejudice
. In October that same year, Kingston appeared in the police procedural drama
CSI: Crime Scene Investigation
in season 9: episode 3 called "Art Imitates Life" where she portrayed Patricia Alwick, a psychiatrist and grief counsellor who helps the team cope with the recent death of CSI member Warrick Brown.
In February 2009, Kingston portrayed Miranda Pond, a defense attorney in two episodes of the legal drama
Law & Order: Special Victims Unit
. This guest spot reunited Kingston with her former cast mate from
ER
, Mariska Hargitay, who had a recurring role during the fourth season of
ER
. In June, Kingston starred as the lead character Ellie Lagden, one of four former convicts in the BBC One drama series
Hope Springs
until its cancellation in July. In September that year, she had a recurring role in
FlashForward
, playing Inspector Fiona Banks.
In 2010, Kingston returned to
Law & Order: Special Victims Unit
in season 12: episode 7 entitled "Trophy", which reunited Kingston with her former
ER
castmate Maria Bello.
In 2011, Kingston was a cast member on British supernatural series
Marchlands
, portraying the character of Helen Maynard. She also guest-starred in the
Grey's Anatomy
spin-off
Private Practice
as Marla Tompkins, a psychiatrist who writes book reviews for newspapers. Kingston appeared in Friedrich Schiller's
Luise Miller
at the Donmar Warehouse in London.
In early 2013, Kingston appeared in
Arrow
, playing Professor Dinah Lance, the mother of Laurel and Sara Lance.
In September 2014, Kingston starred as Ruth Hattersley, an analyst working for the Missing Persons Bureau on the ITV mini-series drama
Chasing Shadows
.