Austin St. John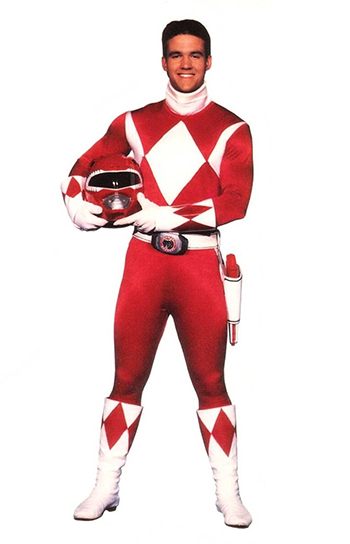 Archived Bio. Not part of the current Guest list.
Austin St. John starred as "Jason Lee Scott, Red Ranger" in one of the most iconic, groundbreaking, live-action children's television series of all time:
The Mighty Morphin Power Rangers
(MMPR). The character of Jason embodies the classic superhero: brave in the face of adversity, an expert fighter, a leader, a team player, and champion of "the underdog."
After its debut in 1993 the show instantly became a worldwide phenomenon, and Austin went on to film eighty-one episodes of MMPR. He eventually left MMPR but later returned to film seventeen episodes as the Gold Ranger in a later series
Power Rangers: Zeo.
After that, Austin continued to be involved in many projects, including
Turbo: A Power Ranger's Movie
, and
Power Rangers: Forever Red
. He hosted a TV special,
Power Rangers: The Lost Episode
and produced a children's instructional video packaged with a book co-authored by Steve Rowe titled
Karate Warrior: A Beginner's Guide to Martial Arts
.
After being in the spotlight for many years, Austin was ready for a break from Hollywood, so he decided to take a sabbatical and experience the world. Austin traveled and trained in martial arts all over the globe, and eventually ended up in the D.C. metro area where his family was living at the time.
After several years as a Medic in Emergency Medical Services, and while working overseas, Austin received a phone call from fellow ranger Walter Jones, who had assured him that his MMPR fans were ready and waiting for him to come home.
Austin was often recognized by his patients and military/contractor personnel. Many of them were fans of MMPR, and shared with Austin that his character was one of their childhood heroes. They hoped that he would consider acting again, or at least reconnecting with his loyal fans. They helped him make the decision to step back into the spotlight today; Austin St. John is now "Back to Action!"
Austin will be signing at the J&J Collectibles Booth #2521 & 2523.
Americamart Building Two - Second Floor
Friday, 10PM-5PM
Saturday, 10AM-5PM
Sunday, 10AM-5PM