The Cog is Dead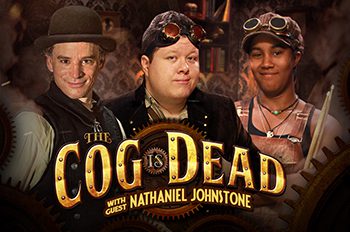 Archived Bio. Not part of the current Performer list.
The Cog is Dead is a powerhouse steampunk musical trio that have been pleasing audiences across the country with their fun and infectious stage show. For ten years now they have been one of the world's premier steampunk bands, creating exciting songs in a wide variety of exhuberant styles and singing about fantastic worlds, mythical monsters... and food!
"The Cog is Dead display a versatility that I have seldom seen, or rather, heard, before... they cover an astonishing range of musical styles and prove masters of them all!" - Daily Steampunk
With songs ranging from dark, Danny Elfman-esque numbers to cheerful and whimsical ditties, they've been described as an exciting musical roller-coaster ride, and have been praised for their musical versatility, clever story-telling lyrics, and charming theatrical presence.
They've also collaborated with many fellow steampunk musicians on musical projects including Steam Powered Giraffe, Professor Elemental, Nathaniel Johnstone, Clockwork Knotwork and others.
"Think Squirrel Nut Zippers meet Abney Park. This is some damn fine Steampunk music!" - Jake von Slatt, Steampunk Workshop
As added theatricality they have a backstory of hailing from Grimsby, England 1893 and they travel to different lands and time periods in their marvelous flying timeship, spreading their music wherever they go, while strongly encouraging people to return to the beauty and charm of Victorian era brasswork, analog clocks and steam powered machines. Along the way they've been inspired by the music of all the eras they've been to!
So get ready for an exciting musical experience with The Cog is Dead! Their songs are sure to get your toes tapping, put a smile on your face and light a flame in your heart!