Elonka Dunin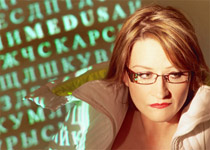 Archived Bio. Not part of the current Guest list.
A recurring guest at Dragon Con since 1998, Elonka Dunin is a professional game developer, cryptographer, and author. She was co-founder and Chairperson Emerita of the International Game Developers Association's Online Games SIG, and co-director of the Global Game Jam, which in 2018 broke all records to create over 8.500 games in one weekend. She serves on the boards of multiple nonprofits, such as the National Cryptological Museum Foundation, working to build a new National Cryptologic Museum in Washington DC, and she is Chairperson Emerita of the Nashville 2600 Organization nonprofit.
For 24 years she was General Manager at Simutronics in St. Louis, Missouri, a leading developer of online games such as "GemStone", the longest-running such game in the world. Other titles worked on include the medieval fantasy game
DragonRealms
; the modern-day mystery adventure
Modus Operandi
; the award-winning 3-D action game
CyberStrike
; the Greek mythology game
Alliance of Heroes
; the social-networking game
Fantasy University
; and the smartphone games
Tiny Heroes
and
One Epic Knight
. After Simutronics, she helped found Black Gate Games in Nashville. As of 2018, she is living in Maryland, where she works as an Agile development consultant at companies such as Accenture (
Sky Journey
), the Family Education Network (StoryArc Media,
Poptropica
) and Gearbox Software (
Borderlands
).
Born in Los Angeles, Dunin studied astronomy at UCLA and then joined the United States Air Force. She was stationed at RAF Mildenhall in the United Kingdom and Beale Air Force Base in California, where she worked on the SR-71 and U-2 reconnaissance aircraft. Dunin is a world-traveler who speaks several languages, has visited scores of countries around the world, and has been to every continent, including Antarctica.
Besides game development, Dunin is best known for her work with cryptography. In 2000 she was awarded a prize for being the first person to crack the PhreakNIC Code, a previously unsolved puzzle created by the hacker group se2600. She also led the team that cracked the famous Cyrillic Projector cipher, which turned out to contain extracts of classified KGB documents.
Considered the world's leading expert on the CIA's mysterious Kryptos sculpture, Elonka is webmistress of two popular cryptography-related websites which contain information about the world's most famous unsolved codes. As of 2018, her website has had over five million page views. She is the author of
The Mammoth Book of Secret Codes and Cryptograms
, and two articles in
Secrets of the Lost Symbol
. Bestselling author Dan Brown honored Dunin by naming one of the characters in his
Da Vinci Code
sequel
The Lost Symbol
after her. Nola Kaye is an anagrammed form of "Elonka".
In other hobbies, Dunin is an avid
Wikipedia
editor, was elected as an administrator in 2007, and has been a significant contributor to over 500 articles, especially in topics related to the Crusades and medieval history.
When not in front a computer, she's probably out geocaching.