Dichen Lachman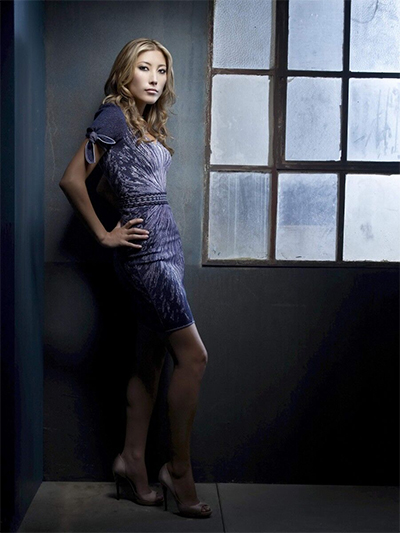 Dichen Lachman was born in Kathmandu, where she lived until she was eight years old. She moved to Adelaide, Australia in late 1990 with her family. Her mother is Nepalese Tibetan and her Australian father is of German heritage. She attended West Lakes Primary School, Gilles Street Primary School, Norwood Morialta High School, St Mary's College, Adelaide, Annesley College and the University of Adelaide. Lachman moved to Los Angeles shortly after she finished with the Australian TV drama
Neighbours
in 2007.
On 26 March 2008, it was announced that Lachman would portray Sierra in the television series
Dollhouse
, created by Joss Whedon. Her character is an Active (or "doll"), whose real name is Priya Tsetsang. Sierra is one of many who can be "programmed" with multiple personalities and abilities to engage in specific assignments.
She guest starred as an insurance agent/street racer on
NCIS: Los Angeles
. She also appeared as Amy Hanamoa, the widow of a murdered police officer, in an episode of
Hawaii Five-0
. Lachman made a guest appearance in an episode of the
Doctor Who
spin-off
Torchwood
, for its fourth series
Torchwood: Miracle Day
. Additionally, in 2011 it was announced in
Variety
that Lachman would be joining the cast of
Being Human
as a series regular. Lachman also made a brief appearance in the web-series
The Guild
during Season 5, episode 8 as a party guest during a gaming convention.
In 2014, Lachman began shooting in Canada, where she joined the cast of
The 100
in the role of Anya and had a recurring role on ABC's
Agents of S.H.I.E.L.D
.
On 11 June 2015, a new movie called
Too Late
, starring Lachman, was released during the Los Angeles Film Festival. On 22 October 2015, it was announced that Lachman landed a recurring role on the third season of Michael Bay's action-adventure TNT series
The Last Ship
. Lachman had been cast as Jesse, the helicopter pilot who lives off the grid. She most recently has starred as Reileen Kawahara in Netflix's original television series,
Altered Carbon
, an adaptation of the 2002 novel of the same name by Richard K. Morgan. The first season was released on February 2, 2018.