James Marsters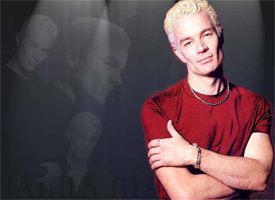 Archived Bio. Not part of the current Guest list.
James Marsters may best be known for the role of Spike, the cult favorite punk-goth vampire that he played for six seasons on the series
Buffy the Vampire Slayer
and then on the final season of the spin-off show
Angel
. He is a headlining fan favorite at conventions worldwide honoring the show and sci-fi genre.
As a sci-fi favorite, Marsters recurred on the series
Smallville
, playing the role of Brainiac, an android who causes a rift between Clark Kent and Lex Luthor. He was also seen in his recurring role on the hit BBC America show
Torchwood
, playing the ruthless and sexually deviant Captain John. Marsters has also recurred on the CBS series
Without a Trace
, as well as, the SyFy channel's
Caprica
.
On the big screen, Marsters filmed the live action adaptation of the hit Japanese video game
Dragon Ball
, in which he portrayed Lord Picolo, the evil war lord set on destroying the earth. Other film credits include
PS I Love You
, with Hilary Swank and Gerard Butler and
The House on Haunted Hill
.
Born in the remote northern logging town of Greenville, California, and raised in Modesto, Marsters went on to study acting at the prestigious Juilliard School. He began his professional career in the theater, performing in such plays as
The Tempest
and
Red Noses
at Chicago's renowned Goodman Theater. Marsters later starred on the Los Angeles stage in an original play titled
The Why
, produced by Noah Wyle.
In addition to his acting career, Marsters is a successful singer/songwriter. He is the front man of the band Ghost of the Robot, which sold out tours on an international level. He also completed a triumphant tour of the UK and Australia, in conjunction with the promotion of his solo album,
Civilized Man
.