Rebecca Moesta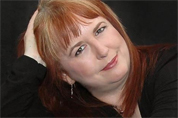 Archived Bio. Not part of the current Guest list.
Rebecca Moesta wanted to be an author since she was twelve, and much of her writing focuses on teens. Her solo work includes novels in the
Buffy the Vampire Slayer
and Junior
Jedi Knights
series, short stories, nonfiction articles, and ghost writing. With husband Kevin J. Anderson, she wrote the
Crystal Doors
trilogy, fourteen
Young Jedi Knights
novels, six movie or game novelizations, lyrics for two Roswell Six rock CDs (ProgRock Records), a
Star Trek
graphic novel (DC/WildStorm), two
Star Wars
pop-up books, and original graphic novel
Grumpy Old Monsters
(IDW).
Moesta and Anderson also worked with June Scobee Rodgers and the Challenger Centers for Space Science Education to create the middle grades adventure series,
Star Challengers
, to encourage students to consider careers in science and technology.